OCTOBER PROGRAMMING ON THE CRITERION CHANNEL ON FILMSTRUCK!
Includes a new edition of Meet the Filmmakers on Josh and Benny Safdie,
On the Waterfront*: Criterion Collection Edition #647
Marlon Brando
gives the performance of his career as the tough prizefighter-turned-
longshoreman
Terry Malloy
in
Elia Kazan
's eight-time Oscar-winning masterpiece. A powerfully emotional tale of individual failure and social corruption, 
On the Waterfront
follows Terry's deepening moral crisis as he must decide whether to remain loyal to a mob-connected union boss (
Lee J. Cobb
) and his right-hand man, Terry's brother (Rod Steiger), as the authorities close in on them. 
SUPPLEMENTAL FEATURES:
 an audio commentary by authors Richard Schickel and Jeff Young; a conversation between filmmaker Martin Scorsese and critic Kent Jones; 
Elia Kazan: Outsider
 (1982), an hour-long documentary; a documentary on the making of the film, featuring interviews with scholar Leo Braudy, critic David Thomson, and others; an interview with actor Eva Marie Saint; an interview with director Elia Kazan from 2001; and more.
*Premiering on the Channel this month.
Countercultural icon
Hal Ashby
's idiosyncratic American fable tells the story of the emotional and romantic bond between a death-obsessed young man (Bud Cort) from a wealthy family and a devil-may-care, bohemian octogenarian (Ruth Gordon). Equal parts gallows humor and romantic innocence, 
Harold and Maude
 dissolves the line between darkness and light along with the ones that separate people by class, gender, and age, and it features indelible performances and a remarkable soundtrack by Cat Stevens. 
SUPPLEMENTAL FEATURES:
 an audio commentary by Hal Ashby biographer Nick Dawson and producer Charles B. Mulvehill; illustrated audio excerpts from seminars by Ashby and writer-producer Colin Higgins; and an interview with songwriter Yusuf/Cat Stevens.
*Premiering on the Channel this month.
Tuesday's

 Short and Feature: The Extraordinary Life of Rocky* andHarold and Maude
In these two comedies, glimmers of macabre humor emerge amid the specter of death: Belgian director Kevin Meul's award-winning 2010 short The Extraordinary Life of Rockyfollows the story of a young boy whose very presence seems to lead his loved ones to die in freak accidents, while Hal Ashby's 1971 Harold and Maude observes the unlikely romantic relationship between a suicidal twentysomething and an eccentric elderly widow.
*Premiering on the Channel this month.
Meet the Filmmakers: Josh and Benny Safdie
The Channel-exclusive series Meet the Filmmakers invites exciting contemporary directors to turn the camera on filmmakers who intrigue them, capturing their creative process through genuine, personal encounters, not filmographies or biographies. This latest entry goes behind the scenes with Josh and Benny Safdie, brothers who have made their name with a number of singularly chaotic features set in their native New York. In addition to candid footage from the set of their new thriller Good Time, director Michael Chaiken offers an intimate immersion in the Safdies' world, where family life and filmmaking flow together inseparably. Alongside the fifty-five-minute documentary, the Criterion Channel will present a sampling of the duo's key films, including The Pleasure of Being Robbed* (2008), Daddy Longlegs*(2009), their basketball documentary Lenny Cooke*(2013), and four of their shorts*.
*Premiering on the Channel this month.
Friday

 Night Double Feature: The Arbor* and The Selfish Giant*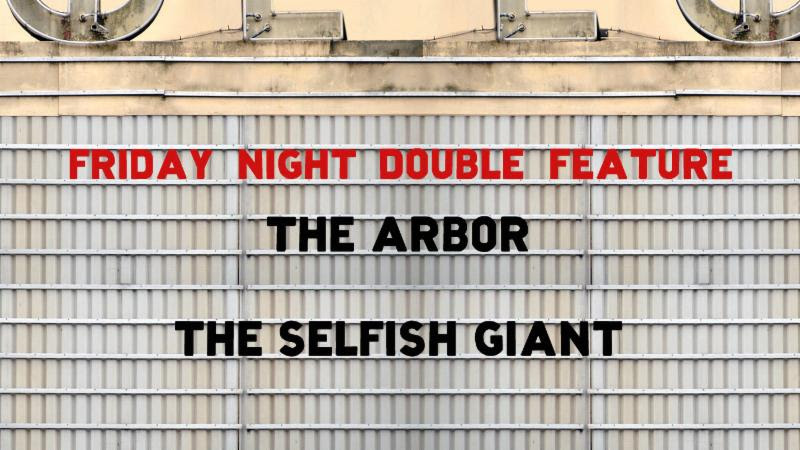 With Clio Barnard's new feature Dark River now making the festival rounds, catch up on two of the director's acclaimed films set in the industrial West Yorkshire city of Bradford. In her astonishing debut feature, The Arbor (2010), she turns documentary filmmaking on its head, investigating the brief, tragic life of playwright Andrea Dunbar through a cast of actors lip-synching to audio interviews with Dunbar's family members. In Barnard's first purely narrative work, the Oscar Wilde­-inspired The Selfish Giant (2013), two working-class teenagers become friends as they try to earn money by collecting scrap metal.
*Premiering on the Channel this month.
Tuesday's

 Short and Feature: Bridges-Go-Round* and The Connection
Different corners of New York City come alive in two works by iconoclastic filmmaker Shirley Clarke: in the playfully structured 1958 short Bridges-Go-Round, she evokes the sculptural beauty of the urban landscape through an assemblage of looped footage, while in her jazz-fueled 1961 feature debut, The Connection, she reimagines a Jack Gelber play about a group of heroin addicts anxiously awaiting their drug dealer in a seedy apartment.
*Premiering on the Channel this month.
Carnival of Souls: Criterion Collection Edition #63
A young woman (Candace Hilligoss) in a small Kansas town survives a drag race accident, then agrees to take a job as a church organist in Salt Lake City. En route, she is haunted by a bizarre apparition that compels her toward an abandoned lakeside pavilion. Made by industrial filmmakers on a small budget, this eerily effective B-movie classic was intended to have "the look of a Bergman and the feel of a Cocteau" - and with its strikingly used locations and spooky organ score, it has remained an influential cult classic decades later. SUPPLEMENTAL FEATURES: selected-scene audio commentary featuring director Herk Harvey and screenwriter John Clifford; an interview with comedian and writer Dana Gould; a video essay by film critic David Cairns; The Movie That Wouldn't Die!, a documentary on the 1989 reunion of the film's cast and crew; The Carnival Tour, a 2000 update on the film's locations; and more.
Ulrich Seidl's Paradise Trilogy* - Paradise: Love, Paradise: Faith, and Paradise: Hope

Like Lars von Trier and Gaspar Noé, Austrian provocateur Ulrich Seidel has long polarized audiences with his boundary-pushing explorations of transgressive desire and abject humiliation. Ranging from the exploits of a middle-aged sex tourist in Kenya to the tribulations of a teenage girl at a weight-loss camp, the stories in this ambitious triptych offer disturbing insights on morality and shame on the margins of contemporary European society. Watch the complete trilogy on the Channel alongside a new interview with cinematographer Ed Lachman.
*Premiering on the Channel this month.
Friday

 Night Double Feature: Oslo, August 31st* and The Fire Within
Two European cityscapes serve as backdrops for dark nights of the soul in these adaptations of Pierre Drieu la Rochelle's 1931 novel Will o' the Wisp. In Joachim Trier's Oslo, August 31st (2011), a depressive writer on a furlough from drug rehab confronts his memories and temptations in the Norwegian capital; in Louis Malle's The Fire Within (1963), a recovering alcoholic, having resolved to commit suicide, wanders a forlorn Paris paying final visits to a scattering of old friends.
*Premiering on the Channel this month.
Life During Wartime*: Criterion Collection Edition #574
With his customary dry humor and queasy precision, independent filmmaker Todd Solondz explores contemporary American existence and the nature of forgiveness in this distorted mirror image of his 1998 dark comedy Happiness. That film's emotionally stunted characters are now groping for the possibility of change in a post-9/11 world and, in a daring twist, are embodied by a different ensemble cast, including Shirley Henderson, Allison Janney, Ally Sheedy, and Ciarán Hinds. SUPPLEMENTAL FEATURES: a documentary featuring interviews with the cast and on-set footage, an interview with cinematographer Ed Lachman, and more.
*Premiering on the Channel this month.
Tuesday's

 Short + Feature: Tord and Tord* and Persona
The psychology of self steps to the fore in these two existential Swedish films. Niki Lindroth von Bahr's clever animated fable Tord and Tord (2010) employs handsome stop motion and deadpan narration to tell the story of a fox who finds his individuality thrown into doubt by the arrival of a new rabbit neighbor with the same name. Ingmar Bergman's masterpiece Persona (1966) captures the porousness of identity through the turbulent relationship between a troubled actress (Liv Ullmann) and her nurse (Bibi Andersson) during their stay on a remote island.
*Premiering on the Channel this month.
Four Jean-Pierre Melville Editions
Marrying elements of classic genre filmmaking with his own individualistic flair and do-it-yourself attitude, the great French director Jean-Pierre Melville produced a body of work suffused with a quiet existential brooding. In anticipation of his centennial this month, we're presenting the packed editions of four of his masterpieces: Le samouraï (Criterion Collection Edition #306), an elegant mix of 1940s American gangster cinema, 1960s French pop culture, and Japanese lone-warrior mythology, featuring Alain Delon in a career-defining performance; Le cercle rouge (#218), a heist film about the criminal schemes of a master thief, a notorious escapee, and an alcoholic ex-cop; Le deuxième souffle (#448), which follows the parallel tracks of a French underworld criminal escaped from prison and the suave inspector relentlessly pursuing him; and Les enfants terribles(#398), a collaboration with Jean Cocteau that delves into the wholly unholy relationship between a brother and sister.
Adventures in Moviegoing with Philip Kaufman
In the latest episode of the Channel-exclusive series Adventures in Moviegoing, writer-director Philip Kaufman (The Right Stuff, The Unbearable Lightness of Being), one of the most accomplished and eclectic of all American filmmakers, reveals a cinephilic appetite as wide-ranging as his filmography. Among the formative experiences he recounts: his childhood love for the eye-popping colors in Disney's Bambi and Fantasia, the origin of his interest in world cinema at the Brattle Theatre in Cambridge, Massachusetts (also the birthplace of Criterion and Janus Films), and his later encounters with the works of American mavericks like Don Siegel, John Cassavetes, and Shirley Clarke. Alongside the interview, check out a selection from Kaufman's personal canon, including John Huston's The Asphalt Jungle, Pietro Germi's Divorce Italian Style, and his ultimate favorite, François Truffaut's Jules and Jim.
Friday, October 20




Friday

 Night Double Feature: Le samouraï and The Usual Suspects
Enigmatic outlaws take the spotlight in these crafty crime films, both of which feature iconic police-lineup scenes: a knockout sequence in Jean-Pierre Melville's taut minimalist thriller Le samouraï (1967) follows Alain Delon's contract killer as he attempts to elude identification; Bryan Singer's tricky The Usual Suspects (1995), a neonoir featuring an Oscar-winning performance for the ages by Kevin Spacey, revolves around a team of criminals who meet when they're all hauled into the same New York precinct.
Monday, October 23


Le Corbeau: Criterion Collection Edition #227
A mysterious writer of poison-pen letters, known only as Le Corbeau (the Raven), plagues a French provincial town, unwittingly exposing the collective suspicion and rancor seething beneath the community's calm surface. Made during the Nazi Occupation of France, Henri-Georges Clouzot's exploration of mass paranoia was attacked by the right-wing Vichy regime, the left-wing Resistance press, and the Catholic Church, and was banned after the Liberation. But in time the film reemerged as high-profile admirers like Jean Cocteau and Jean-Paul Sartre championed its powerful subtext and worked to rehabilitate Clouzot's reputation after the war. SUPPLEMENTAL FEATURES: an interview with Bertrand Tavernier and excerpts from The Story of French Cinema by Those Who Made It: Grand Illusions 1939-1942, a 1975 documentary featuring Clouzot.
Tuesday, October 24

Tuesday's

 Short + Feature: Doodlebug and Following
In the wake of Christopher Nolan's war film 
Dunkirk
, one of the most widely celebrated and commercially successful films of the summer, this week's Short + Feature takes a look back at the filmmaker's no-less-inventive low-budget beginnings. In the space of just three minutes, Nolan's black-and-white short 
Doodlebug
 (1997), about a man hunting a bug in his apartment that may or may not be a figment of his imagination, develops into a compellingly Kafkaesque portrait of madness, while his first feature, the psychological mystery 
Following
 (1999), also shot on 16 mm, cunningly scrambles its chronology to tell the story of a writer drawn unexpectedly into a life of crime.
Thursday, October 26


Observations on Film Art No. 12: Brute Force - The Actor's Toolkit
What do film actors do when they act? Few aspects of moviemaking craft are more discussed and less understood. In this month's episode of our Channel-exclusive series Observations on Film Art, Professor David Bordwell takes a close look at Jules Dassin's Brute Force (1947) to show how a performance is built from gesture, body language, and speech. Dassin's prison-escape film noir relies on economical acting from performers like Burt Lancaster, Hume Cronyn, and Charles Bickford to create richly nuanced characterizations that resonate beyond the content of the script's hard-boiled dialogue. ACCOMPANIED BY: the Criterion edition of Brute Force.
Friday, October 27




Friday

 Night Double Feature: The Haunted Strangler and Fiend Without a Face
Terror comes from within in these chilling tales, produced by horror impresario Richard Gordon and originally released in 1958 as a double bill. A late-career showcase for monster-movie legend Boris Karloff, The Haunted Strangler follows a muckraking author (Karloff) as he attempts to uncover the real story behind a twenty-year-old series of killings, only to reveal a gruesome side of himself. And in Arthur Crabtree's sci-fi/horror hybrid Fiend Without a Face, a scientist's thoughts come to grisly life in the form of invisible monsters with an unquenchable thirst for human brains.
Saturday, October 28


Split Screen Season 8
Two decades after it premiered on IFC, the pioneering television series Split Screen has a streaming home on the Channel, with batches of episodes from the show's four-year run going up every month. In this priceless time capsule, host John Pierson takes viewers on an irreverent trip through filmmaking communities and movie-loving culture at the turn of the millennium. This season features a trip to South Korea to meet the animators behind The Simpsons, an investigation of Billy Graham's insanely prolific evangelical film production unit, and an appearance by Haruo Nakajima, a.k.a. the man in the Godzilla suit.
Hunger: Criterion Collection Edition #504
Oscar-winning British filmmaker and artist Steve McQueen (12 Years a Slave) turns one of history's most controversial acts of political defiance into a jarring, unforgettable cinematic experience. In Northern Ireland's Maze prison in 1981, twenty-seven-year-old Irish Republican Army member Bobby Sands went on a hunger strike to protest the British government's refusal to recognize him and his fellow IRA inmates as political prisoners. McQueen dramatizes prison existence and Sands's final days in a way that is purely experiential, even abstract, a succession of images full of both beauty and horror. Featuring an intense performance by Michael Fassbender, Hunger is an unflinching, transcendent depiction of what a human being is willing to endure to be heard. SUPPLEMENTAL FEATURES: interviews with McQueen and Fassbender, a short documentary on the making of the film, and more.
Tuesday, October 31




Tuesday's

 Short + Feature: Swallowed* and The Brood
While the kids are out trick-or-treating, sneak in two unnerving films that milk horror from the physical and emotional trials of motherhood. A young mom finds herself possessed by eerie trances and uncontrollable impulses in dancer-filmmaker Lily Baldwin's Swallowed, made as part of the dream-inspired omnibus Collective: Unconscious (2016). And David Cronenberg's The Brood (1979) sets a mother's rage loose on her daughter, taking the director's obsession with bodily and psychological carnage to bloodcurdling extremes.
*Premiering on the Channel this month.
---


Complete list of films premiering on the Criterion Channel this month:


Harold and Maude, Hal Ashby, 1971
On the Waterfront, Elia Kazan, 1954
October 2
The Extraordinary Life of Rocky, Kevin Meul, 2010
October 5
Lenny Cooke, Josh and Benny Safdie, 2013
The Black Balloon, Josh and Benny Safdie, 2012
John's Gone, Josh and Benny Safdie, 2010
Daddy Longlegs, Josh and Benny Safdie, 2009
The Pleasure of Being Robbed, Josh Safdie, 2008
The Acquaintances of a Lonely John, Benny Safdie, 2008
We're Going to the Zoo, Josh Safdie, 2006
October 6
The Arbor, Clio Barnard, 2010
The Selfish Giant, Clio Barnard, 2013
The Junk Shop, Juraj Herz, 1965
The Cremator, Juraj Herz, 1968
Golden Demon, Koji Shima, 1954
La chambre, Chantal Akerman, 1972
A Taxing Woman's Return, Juzo Itami, 1988
October 12
Paradise: Love, Ulrich Seidl, 2012
Paradise: Faith, Ulrich Seidl, 2013
Paradise: Hope, Ulrich Seidl, 2013
October 13
Oslo, August 31st, Joachim Trier, 2011
June Night, Per Lindberg, 1940
Blindfolded Eyes, Carlos Saura, 1978
History Is Made at Night, Frank Borzage, 1937
Gap-Toothed Women, Les Blank, 1987
The Maestro: King of the Cowboy Artists, Les Blank, 1995
Ciao Federico, Gideon Bachmann, 1970
The Seventh Continent, Michael Haneke, 1989
Benny's Video, Michael Haneke, 1992
71 Fragments of a Chronology of Chance, Michael Haneke, 1994
The Piano Teacher, Michael Haneke, 2001
October 16
Life During Wartime, Todd Solondz, 2009
October 17
Tord and Tord, Niki Lindroth von Bahr, 2010
October 20
Madonna of the Seven Moons, Arthur Crabtree, 1945
I Am Curious - Blue, Vilgot Sjöman, 1968
Café au lait, Mathieu Kassovitz, 1993
My Home Is Copacabana, Arne Sucksdorff, 1965
October 25
The Edge of the World, Michael Powell, 1937
October 27
L'enfance nue, Maurice Pialat, 1968
A Man There Was, Victor Sjöström, 1917
Until the End of the World, Wim Wenders, 1991
More, Barbet Schroeder, 1969
Intimate Relations, Philip Goodhew, 1996
October 31
Swallowed, Lily Baldwin, 2016
ABOUT THE CRITERION CHANNEL
The Criterion Channel offers the largest streaming collection of Criterion films available, including classic and contemporary films from around the world, interviews and conversations with filmmakers and never-before-seen programming. The channel's weekly calendar features complete Criterion editions, thematic retrospectives, live events, short films, and select contemporary features, along with exclusive original programming that aims to enhance the Criterion experience for the brand's dedicated fans as well as expanding its reach to new audiences. Other recent additions to the programming include MEET THE FILMMAKER: ATHINA RACHEL TSANGARI and ADVENTURES IN MOVIEGOING WITH BILL HADER.


ABOUT FILMSTRUCK


FilmStruck is a new subscription on-demand service that offers film aficionados a comprehensive library of films including an eclectic mix of contemporary and classic art house, indie, foreign and cult films. Developed and managed by Turner Classic Movies (TCM) in collaboration with the Criterion Collection, FilmStruck will be the new exclusive streaming home for the critically acclaimed and award-winning Criterion Collection, including the Criterion Channel, a new premium service programmed and curated by the Criterion team.  FilmStruck is Turner's first domestic direct-to-consumer offering launched in November 2016.


ABOUT THE CRITERION COLLECTION


Since 1984, the Criterion Collection has been dedicated to publishing important classic and contemporary films from around the world in editions that offer the highest technical quality and award-winning, original supplements. No matter the medium-from laserdisc to DVD and Blu-ray to FilmStruck, the streaming service developed in collaboration with Turner Classic Movies - Criterion has maintained its pioneering commitment to presenting each film as its maker would want it seen, in state-of-the-art restorations with special features designed to encourage repeated watching and deepen the viewer's appreciation of the art of film.