KIND HEARTS AND CORONETS — CLASSIC FILM PICK
Produced by Britain's legendary Ealing Studio, co-writer/director Robert Hamer's "Kind Hearts and Coronets" (1949) is a flawless Black Comedy film drawn from the late-Victorian/Edwardian era of literature. Arriving on the heels of World War II, the sinisterly ironic farce is widely considered to be the originator of the Black Comedy genre. This is the movie that showed audiences that murder could be funny, sexy, and clever.
"Kind hearts are more than coronets / And simple faith than Norman blood."
The tellingly British line is a couplet from the Tennyson poem "Lady Clara Vere di Vere" that announces the state of Noblesse Oblige carried by the film's main character, a wily familial assassin of royal ancestry. The hoity-toity concept decrees that whoever claim to be of noble descent must conduct him or herself in a noble manner. Clean, pressed clothes help.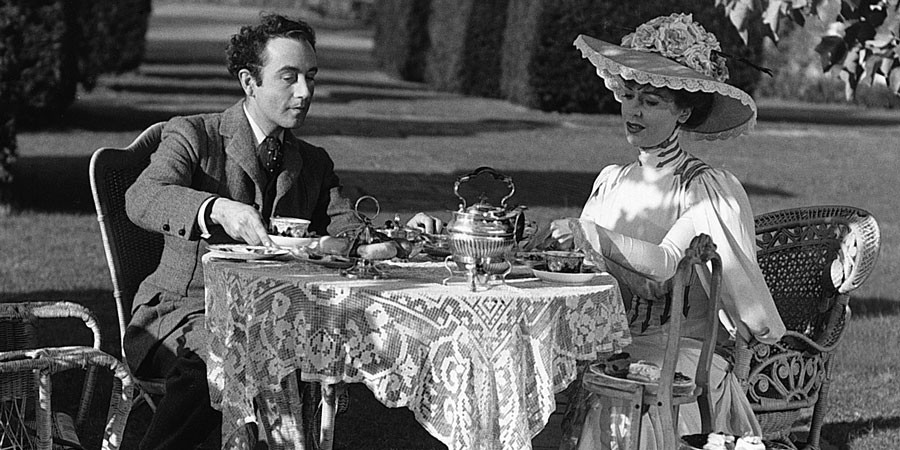 Screenwriters Robert Hamer and John Dighton adapt Roy Horniman's 1907 novel "Israel Rank: The Autobiography of a Criminal," with an ear for an Edwardian tactical use of English speech that operates on a virtuosic level of sophistication. Think Oscar Wilde with a dagger, a pen, and a drainage bowl.
Dennis Price gives a composed performance as the picture's likable anti-hero Louis Mazzini, an exquisitely mannered momma's boy who carries out his mother's demurely expressed wish that eight members of her royal lineage perish for refusing to admit her son as a member of the royal D'Ascoyne family.
Louis is ninth in line to be the Duke of Chalfont. The current Duke's refusal to grant Louis's mother's dying wish — to be buried at Chalfont in the D'Ascoyne family crypt — is the final insult that sends the snobbish Louis on an efficient mission of murdering his imperial rivals. Robert Hamer's script increasingly ups the comic stakes for each of the murders until striking a crescendo peak of outrageousness that you must see to believe.
Alec Guinness's irreproachable performance, as each of Louis's arrogant victims, adds an additional masterstroke to a ruthlessly pitched commentary on British imperialism backfiring on itself. There are few things as satisfying as watching Alec Guinness play divergent characters of both sexes.
A tangled love triangle develops between Louis and the faulty relationships he carries on with Edith D'Ascoyne, the widow of his second victim, and with Sibella (played with shrewish authority by Joan Greenwood). Sibella is a childhood soul mate who is every bit as cunning as Louis.
"Kind Hearts and Coronets" is not just a saucy comedy of language and manners; it is a comedy about sex, class, and murder.
Not Rated. 106 mins. 
Groupthink doesn't live here, critical thought does.
This website is dedicated to Agnès Varda and to Luis Buñuel.
Get cool rewards when you click on the button to pledge your support through Patreon.