DRACULA HAS RISEN FROM THE GRAVE — CLASSIC FILM PICK
Groupthink doesn't live here, critical thought does.
This ad-free website is dedicated to Agnès Varda and to Luis Buñuel.
Get cool rewards when you click on the button to pledge your support through Patreon.
Thanks a lot acorns!
Your kind generosity keeps the reviews coming!
The joy of Hammer horror. Produced during the heyday of the famed British [horror] film production company Hammer, "Dracula Has Risen From the Grave" (1968) is a high watermark for the winking franchise.
Directed by Oscar-winning cinematographer and director Freddie Francis (cinematographer of Martin Scorsese's version of "Cape Fear"), "Dracula Has Risen" departs significantly from Hammer's signature campy style.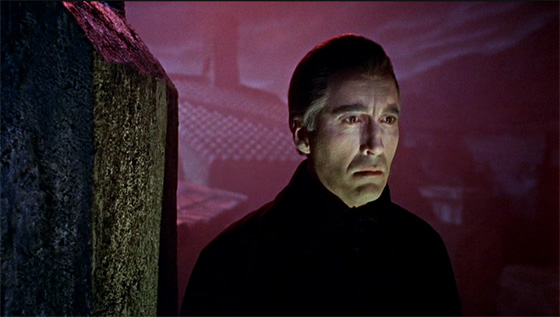 Building on the Transylvanian Count role he first portrayed in Hammer's 1958 "Horror of Dracula," Christopher Lee is a vampire of few words. Lee uses his transfixing stare and perfect hair to hypnotize his subjects, whose numbers inevitably grow after he is revived from death by the blood of a priest, whose life fluid melts through the ice where Dracula is buried.
Said unlucky priest proves his fealty as Dracula's first loyal subject when he digs up a recently filled grave to supply a coffin for his new master. The evicted corpse provides a shock of gruesome surprise. In a local village Maria (Veronica Carlson), the niece of the visiting Monsignor (Rupert Davies), is carrying on a promising affair with the baker's virile young assistant Paul (Barry Andrews).
Scriptwriter Anthony Hinds's spatially compact narrative contains the action in and around the bakery; the business also serves as a tavern and rooming house. Maria likes to climb out her bedroom window to inch around the rooftops — think London — that lead to Paul's own nearby bedroom. Maria takes charge of fulfilling her sensual desires.
Most impressive, and disturbing, is the film's establishing scene. A local altar boy arrives at church in order to perform his bell-ringing duties. Blood from a corpse tied to the bell tower drips down the rope. The source of the thick red blood is a recently murdered girl, whose limp corpse hangs upside down within the church bell. This traumatic event has an immediate effect on the poor altar boy; he goes mute. The queasy sequence establishes a dark sense of human tragedy that extends across the film's less suspenseful moments.
Nevertheless, "Dracula Has Risen From the Grave" contains many iconic elements. Dracula's red-lined cape disguises his lurking abilities to perform superhuman feats. It wouldn't be a vampire movie without at least one stake through a vampire's heart, though it's never explained how Dracula survives the assassination attempt. Christopher Lee's death-by-crucifix ending stands as one of the most indelible gothic images ever recorded in cinematic vampire lore. Oh the agony in Christopher Lee's bloodshot eyes.
Rated G. 92 mins.