LOVE & OTHER DRUGS
Drawn from the same murky well of Hollywood ethical ambiguity that gave us "Thank You for Smoking" and last year's "Up In the Air," "Love & Other Drugs" audaciously defines its slick anti-hero protagonist as beyond reproach.
Jake Gyllenhaal's Jamie Randall is a sex-addicted stud whose effortless ability to bed women anytime/anywhere gets him fired from his peppy job selling electronics equipment to women of all ages during the bustling economy of 1996.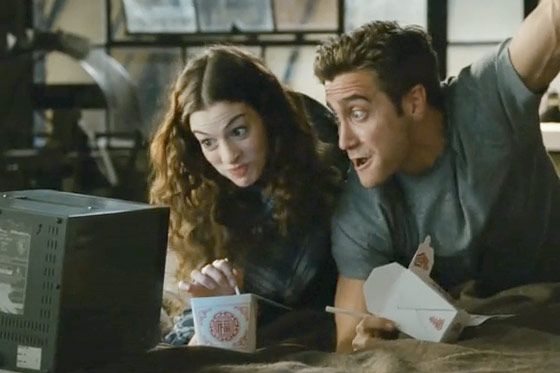 Landing on his feet, Jamie's seduction skills become still more useful at his new position hawking drugs for Pfizer. Partnered with old-hand Big-Pharma peddler Bruce Winston (Oliver Platt), Jamie utilizes his mythical appendage to place samples of Zoloft in the stocks of doctors all over Pittsburgh. Sleeping with doctor office receptionists has fiscal benefits.
Jamie has no ethical qualms about posing as a medical intern in order to "shadow" Dr. Stan Knight (Hank Azaria), an especially hard-sell doctor who shares a similar free-spinning moral compass. It's a line-crossing stunt that introduces Jamie to early onset Parkinson's disease-suffering patient Maggie Murdoch (Anne Hathaway) via her exposed spider-bitten breast. Jamie and Maggie are commitment phobes whose sexual collision is articulated to preclude any actual devotion of the heart.
"Love & Other Drugs" wants to lampoon the corporate milieu of the medical industry corruption that promotes and sustains America's ongoing health care crisis. But it does it all wrong.
Jake Gyllenhaal and Anne Hathaway look too perfect naked together to be anything other than art. We accept the light-hearted entertainment like drinking spiked punch. So what if Gyllenhaal's character is a reprehensible cad? He looks great and just so happy with that health-challenged Venus.
Rated R. 113 mins.
Groupthink doesn't live here, critical thought does.
This website is dedicated to Agnès Varda and to Luis Buñuel.
Get cool rewards when you click on the button to pledge your support through Patreon.