I LOVE YOU PHILLIP MORRIS
There's something terribly romantic about the bond that develops between Ewan McGregor's and Jim Carrey's gay lovers in a con-man story not far removed from a great film like "Catch Me if You Can."
There's a sincerity in both movies than humanizes its criminal protagonists and celebrates their abilities to outwit the lawmen that tirelessly pursue them.
There's enough cinematic glue here to name a new genre: the extravagant conman genre. Based on the exploits of an actual thief named Steven Russell, the movie is a comedy that's funny for all the right reasons, and equally dramatic as well.
It's impossible to imagine anyone other than Jim Carrey playing a man who realizes he's gay while in the throes of a heterosexual marriage before going on to criminal greatness.
Russell got hired as a chief financial officer at NASA, where he plundered cash like it was water from an open tap. He's a natural-born liar, even to himself. And yet, the love Russell discovers for fellow prison inmate Phillip Morris (McGregor), while serving time for stealing a rental car, has a ring of undeniable truth. For all of its goofy sight-gags, slapstick chase scenes, and snappy character bluffs, "I Love You Phillip Morris" is unapologetically gay.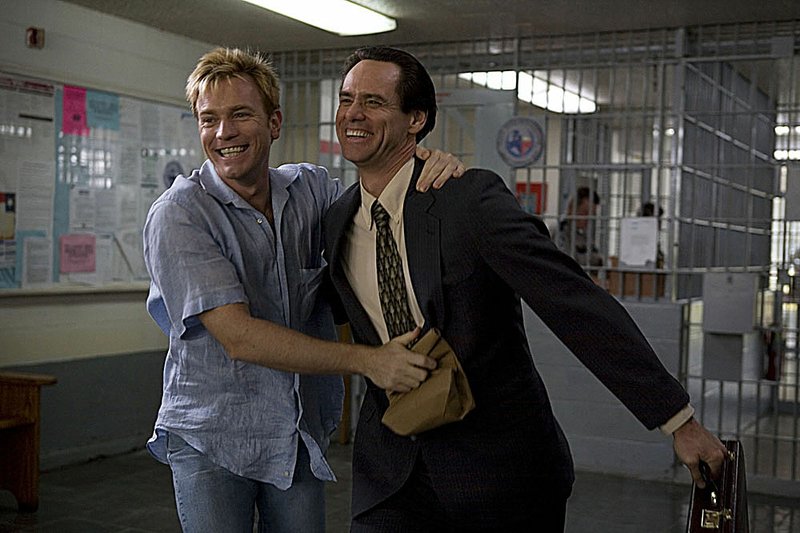 Clouds in the sky take penis-and-balls shape. That the co-directed film took over two years to find American distribution finds resonance with the U.S. military's ongoing "don't ask, don't tell" saga. Audiences all around the world have already seen it. Now it's America's turn.
Rated R. 98 mins.
Groupthink doesn't live here, critical thought does.
This website is dedicated to Agnès Varda and to Luis Buñuel.
Get cool rewards when you click on the button to pledge your support through Patreon.