DRIVE ANGRY
Add "Drive Angry" to the long list of Tarantino-knock-off films. Screenwriter Todd Farmer and co-writer/director Patrick Lussier try hard to rip off Quentin Tarantino's wit, style, and muscle. The fail on every level. What they end up with is an insipid slop of boring chase scenes weakly supported by a first-grade narrative you couldn't hang a tissue on. Oh but for the days when Nicolas Cage created characters.
Nicolas Cage's Milton is a second cousin to the "Ghost Rider" flaming-skull role he played some years back. Milton escaped from the depths of Hell after stealing Lucifer's pistol so he could avenge the death of his daughter. She died at the hands of a Satanic cult.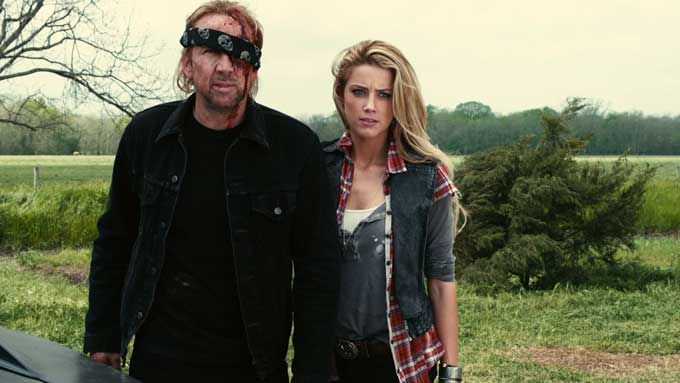 Members of said cult still have possession of Milton's granddaughter. He plans on rescuing the infant. Milton latches onto a hot chic named Piper (Amber Heard) who has a bigger libido than he does. She also has a matte-black muscle car that enables many chases with Lucifer's right-hand man (William Fichtner) — known as "the Accountant."
The Accountant has been sent to drag Milton back to hell. Slow-motion events of bloody spectacle are only slightly amped up by the filmmaker's less-than-impressive use of 3D. There's no rhyme or reason to this schlock fest. 15-year-old boys will get a charge from the nudity and stupid action, but there isn't enough story to appease adult audiences. Even as a guilty-pleasure grindhouse, "Drive Angry" is marginal at best.
Rated R. 104 mins.
Groupthink doesn't live here, critical thought does.
This website is dedicated to Agnès Varda and to Luis Buñuel.
Get cool rewards when you click on the button to pledge your support through Patreon.