MARS NEEDS MOMS
Based on a children's book by cartoonist Berkeley Breathed (known for his "Bloom County" comic strip), "Mars Needs Moms" is a tone-deaf animated disaster. Executed with the same creepy animated design that gave "The Polar Express" its disturbing sense of anti-realism, this 3D movie resists any kind of narrative logic.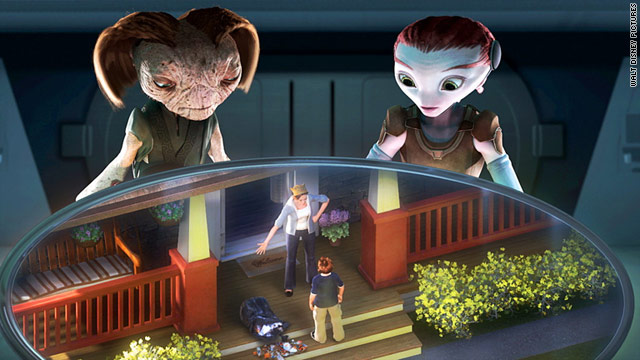 Milo (performed in motion-capture by Seth Green) is a bratty kid who hates to do what he's told. During a spat with his doting mother (Joan Cusack) an alien space ship lands outside their suburban home to extract Milo's mom. The little red planet doesn't need "Moms" plural so much as it needs a singular example of matriarchy to call its own.
A population of group-think Martians needs to extract nurturing instincts from her brain to properly raise their own female Martian babies. Male babies are automatically exiled for some unexplained reason. Milo sneaks onto the spacecraft with his incapacitated mother. On Mars Milo falls in with an eccentric older boy from Earth called Gribble (Dan Fogler), whose own mother was kidnapped under similar circumstances some years earlier.
No telling why Gribble's mom couldn't bring homey continuity to the drab society. Martian civilization is a regimented militarized world of constant surveillance. Robots run the show under the command of an excitable, vaguely Asian hag whose ugliness informs her status as the primary antagonist. There's more than a trace of racist ideology at play in an animated film that is far from innocent.
Rated PG. 88 mins.
Groupthink doesn't live here, critical thought does.
This website is dedicated to Agnès Varda and to Luis Buñuel.
Get cool rewards when you click on the button to pledge your support through Patreon.