RED RIDING HOOD
Groupthink doesn't live here, critical thought does.
This ad-free website is dedicated to Agnès Varda and to Luis Buñuel.
Get cool rewards when you click on the button to pledge your support through Patreon. Thanks a lot pal! Your kind generosity keeps the reviews coming!
With plenty of carry-over intentionality from her experience directing the first "Twilight" film, Catherine Hardwicke goes all CGI-werewolf amid a wild untamed snowy landscape. An uncomfortable undercurrent of incest lurks within its subtext in this revved up telling of the Brothers Grimm's "Little Red Riding Hood" fable. Talk about "unclear on the concept;" this movie doesn't know which way is down.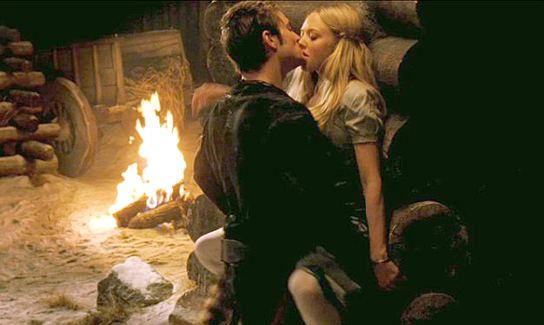 The story is set in Daggerhorn, a small medieval village beset by attacks from a demon canine monster. Valerie (Amanda Seyfried) is troubled by an arranged marriage to Henry (Max Irons), a boy she doesn't love. Her heart is promised to Cesaire (Billy Burke). Cesaire and Valerie bonded many moons ago when the childhood pals killed a rabbit together. So romantic. It's the week of the red moon when the famed werewolf-killer Father Solomon (Gary Oldman) arrives to dispatch the unpredictable beast that recently killed Valerie's sister.
It's shocking that for all of the advances in computer generated imagery, they still can't make a realistic looking werewolf. Lon Chaney's original 1941 werewolf far outshines the hairy beast here. Solomon alerts the town that the changeling monster lurks within the body of one of the townspeople. Misdirected torture leads to more confusion before the werewolf shows his true colors to our blonde lass in the red hooded shawl.
Rated PG-13. 100 mins.