THIS IS SPINAL TAP — CLASSIC FILM PICK
Though examples of the mockumentary genre existed before "Spinal Tap," this heavy metal comedy is considered an epitome of the genre's tongue-in-cheek style. Conceived and written by the comedy team of Christopher Guest, Michael McKean, Harry Shearer, and director Rob Reiner, "This is Spinal Tap" sends up the heavy metal music and lifestyle that permeated the globe in 1984 when the film was made.
The cinematic hoax is so close to the ridiculous truth of the early '80s heavy metal scene that some audiences believed "Spinal Tap" was a real documentary. William Friedkin's "The Exorcist" also gave the "Spinal Tap" title a cultural marker since Linda Blair's demon-possessed Regan undergoes the notoriously painful procedure in a medical effort to diagnose her violent condition and behavior.
Rob Reiner plays documentary filmmaker Martin Di Bergi, whose love of the British rock group Spinal Tap inspires him to document the band's disastrous 1982 American concert tour in support of their equally doomed [15th] album "Smell the Glove." During his straight-to-camera introduction, Di Bergi calls his film a "rockumentary." It's a clue to the audience that everything that transpires occurs within a comedic context.
Sticking to a routine documentary format, Reiner intersperses jiggly-camera interview footage with "impromptu" social settings and live-performance footage of the goofy band living out their rock 'n' roll dream.
During a limo ride with the group, their talkative driver oversteps his bounds by trying to engage the band in meaningful conversation about Frank Sinatra. An electric window that separates the front from the back seats goes up to passively silence the chauffer. Humorous value judgments are made. Sinatra weren't no rocker, now go away.
"It's such a fine line between stupid and clever." That amusing line, spoken by Christopher Guest's longhaired rock star, amply sums up the comic tension that the briskly edited movie builds upon. Everything is saturated with details. During a party scene, band mates David St. Hubbins (Michael McKean) and Nigel Tufnel (Christopher Guest) wear nearly matching herpes sores on their lips without comment. Every job has its risks.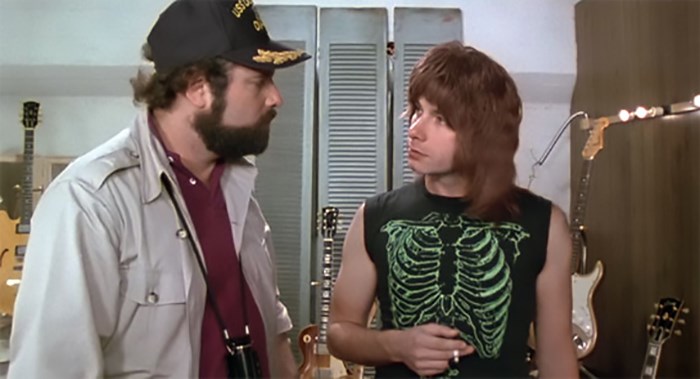 The picture's overriding strength lies in the fictitious group's backstory, and expertly crafted songs that range from rockabilly through blues, and hippy folk songs. Their heavy metal material contains musical and lyrical jokes galore. If the comic set pieces don't get you, sidesplitting performances of songs like "Big Bottom" and "Stonehenge" surely will.
Rated R. 83 mins.
This website is dedicated to Agnès Varda and to Luis Buñuel.
Groupthink doesn't live here, critical thought does.
A small request: Help keep Cole Smithey writing reviews, creating video essays, and making podcasts. Click on the button to pledge your support through Patreon, and receive special rewards!