THE GREATEST MOVIE EVER SOLD
Morgan Spurlock's decline as a documentarian is a study in entropy. The David Blaine of filmmakers, Spurlock made a name for himself as a human guinea pig with his first film "Supersize Me" (2004) where he took on McDonald's by eating the company's fast food for a month. If a clerk asked if he wanted to "super-size" his meal, he was bound to oblige.  

In "The Greatest Movie Ever Sold" Spurlock promises to take the audience through the process of securing the 1.5 million dollars it takes to finance the film from corporate sponsors for product placement, marketing, and advertising. The idea is that we'll get a behind-the-scenes look at how films like "Iron Man" are developed from a corporate marketing angle. Yet no such case-studies are forthcoming. Transparency is the stated goal.
But when Spurlock takes delivery of seven Mini Coopers, we get no background on how the deal was cut, much less the fate of the cars. Did he give any away to family and friends? Or, did he keep them all for himself?
Brief interviews with consumer advocates such as Ralph Nader and Noam Chomsky fade into the background against pitch meetings with executives from POM, Merrell shoes, and Sheetz--all partners in the film. If there's a lesson here it's that persistence pays. Rejections from the likes of Nike and Guess Jeans mean nothing when POM agrees to pony up a cold million bucks.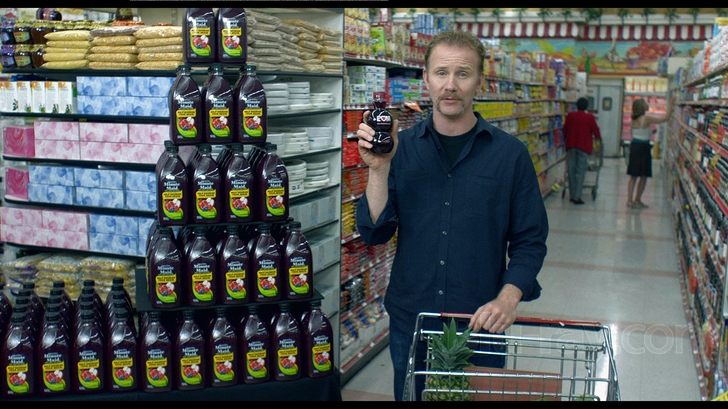 The most interesting sequence arrives when Spurlock travels to São Paulo, Brazil to meet with city planners who have put in place a ban against all public advertising in the world's 6th largest city. Without its former visual pollution, the city takes on a cleaner and more refined quality. You can see the city's architecture that was hiding under a barrage of signage.

Near the end of the film, Spurlock tells us that all he can do is make us aware of the flood of advertising we're constantly exposed to. Message to the filmmaker and its corporate sponsors, we know. Believe me, we know.
Rated PG-13. 88 mins.
Groupthink doesn't live here, critical thought does.
This website is dedicated to Agnès Varda and to Luis Buñuel.
Get cool rewards when you click on the button to pledge your support through Patreon.