WATER FOR ELEPHANTS
Groupthink doesn't live here, critical thought does.
This ad-free website is dedicated to Agnès Varda and to Luis Buñuel.
Get cool rewards when you click on the button to pledge your support through Patreon. Thanks a lot pal! Your kind generosity keeps the reviews coming!
Screenwriter Richard LaGravenese's brilliant adaptation of Sara Gruen's circus novel is an achievement in distilled cinematic storytelling. As much as that most sought after of film types known as character-driven stories goes, this one more than fills the bill. As date movies go, this one is a surefire winner. Despite one suspect plot point and some flawed sound editing, "Water for Elephants" is an all-consuming movie.
Set during the Great Depression, the film follows the adventures of Polish immigrant Jacob Jankowski (well played by Robert Pattinson). The accidental death of Jacob's parents derail his college plans to be a veterinarian. Escaping town in a circus box car offers Jacob plenty of opportunity and danger. Yet none are so great as the problematic romantic affection of Marlena (Reese Witherspoon), wife to circus ringmaster August (Christoph Waltz). August is the mercurial and abusive impresario of the grand scale Banzini circus.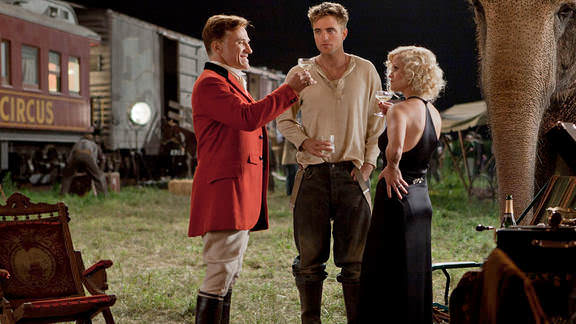 Quick at thinking on his feet, Jacob ingratiates himself to August with white lies. Headstrong Jacob finds himself employed in the unlikely position of veterinarian to the circus's animals that include Marlena's ailing horse for her star attraction act. Lions and tigers make up a fraction of the rolling menagerie that comes to include an elephant named Rosie, upon which Marlena will ride.
The filmmakers elegantly segue between compressed narrative sequences that convey Jacob's steep learning curve toward being accepted as a member of the circus family. Never quite as grungy as the harsh reality of circus life, "Water for Elephants" still captures its pragmatic traditions in an imaginative way. Christoph Waltz is superb in the role of an egomaniacal and fiercely jealous man. For anyone who ever dreamed of running away with the circus, here's a terrific chance to do it if only for a couple of hours.
Rated PG-13. 121 mins.