EVERYTHING MUST GO
First-time writer director Dan Rush doesn't know how to craft a story arc, much less deliver the catharsis that needs to be part and parcel to the narrative at hand. By modern cinema standards, Dan Rush simply doesn't know how to tell a story. Such is the mushy terrain of a ponderous movie about a man who loses everything at the hands of an ungrateful adulterous wife, who we never see, and the faceless company that fires him after 16 years of service. The cons keep coming in America.
Will Ferrell's failure in a straight man role as suburban casualty Nick Halsey isn't without some charm. What is amazing is how pathetically timid the filmmaker is about creating a personalized allegory about the quarter of America's population that are out of work due to a corporate stranglehold that has resulted in outrageous profits for CEOs while draining the blood out of every social system around.
Nick Halsey should by all rights be as mad as Travis Bickle in "Taxi Driver" when his company car gets repossessed and all of his worldly possessions are tossed on the front lawn of his home, which his wife has permanently locked him out of. However, he's content to spend his last few dollars on crappy beer he can't even get drunk on.
Part of his problem is that Nick listens to the wrong music. There's no Iggy on the front lawn turntable to inspire Nick to go get the forty-five-grand his wife looted from his bank account. Instead, he's relegated to selling off his worldly objects for pennies on the dollar as if the experience will enrich him.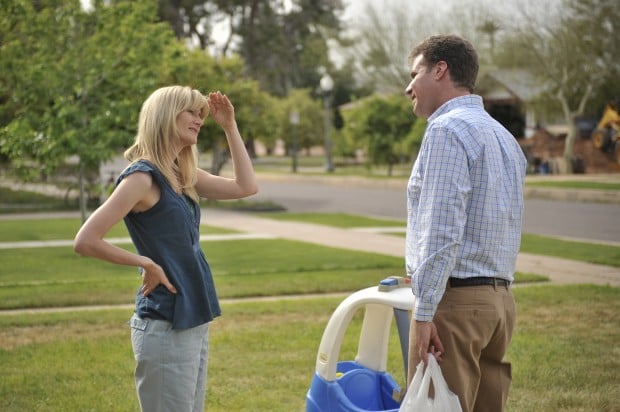 The film's theme seems to be that getting raped by society at large is rewarding when you lay down and take it like dead cat. In Paddy Chayefsky's day, that kind of behavior would be termed unforgivable. Chayefsky was the brilliant screenwriter of "Network" (1976).
Dan Rush has created a vacant character that represents everything wrong with America in 2011. Nick isn't merely an unreliable protagonist, he's a lazy and stupid one. 
Rated R. 100 mins.
Groupthink doesn't live here, critical thought does.
This website is dedicated to Agnès Varda and to Luis Buñuel.
Get cool rewards when you click on the button to pledge your support through Patreon.