THE HANGOVER: PART II
The formula that worked so well the first time around loses some steam in this follow-up to the most successful R-rated movie ever made. With so much of its would-be surprise elements given away in the trailer and even in the film's poster, "The Hangover 2" has a tough time mustering up the epic gross-out comic suspense the filmmakers are after.
Todd Phillips returns to the director's chair to shepherd the comedy around its alternately grimy and lush Thailand locations. Phil (Bradley Cooper), Stu (Ed Helms), Doug (Justin Bartha), and Alan (Zach Galifianakis) are reunited under the auspices of their "Wolfpack" group in honor of Stu's upcoming wedding in the sex tourism capital of the world.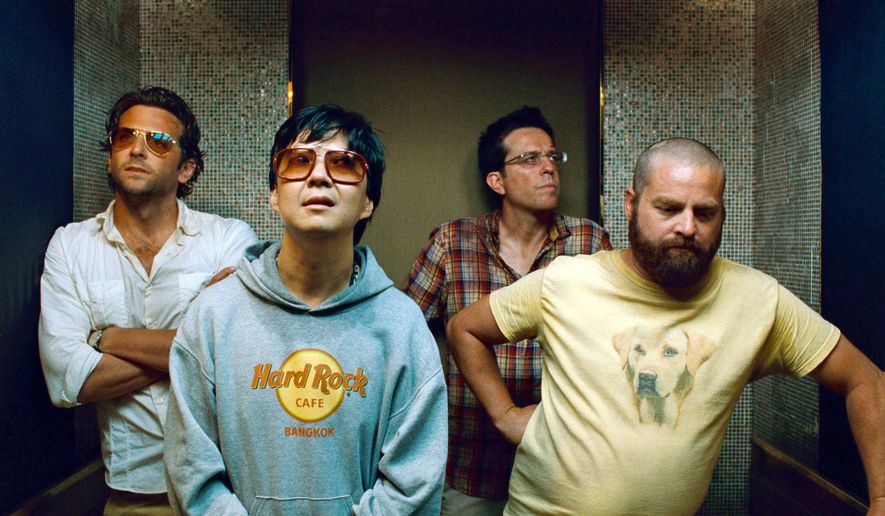 Stu's fiancée Lauren (Jamie Chung) is the all-too-perfect daughter of Fong, a wealthy Thai businessman (Nirut Sirichanya) who has little use for Stu. Fong's primary interest is the career of his 16-year-old prodigal son Teddy (Mason Lee).
A beer on the beach segues into an obligatory morning-after realization, in a seedy Bangkok hotel no less, that the previous night's forgotten events have left indelible marks on Stu, Phil, Alan, and even tag-along Teddy, who has gone missing from the group.
A severed body part from Teddy increases the sense of urgency the boys share in locating Fong's son in time for Stu's impending nuptials. A key leftover element from the first film is the hilarious photo sequence that comes during the closing credits. Don't walk out until the very end of the movie.
Rated R. 102 mins.
Groupthink doesn't live here, critical thought does.
This website is dedicated to Agnès Varda and to Luis Buñuel.
Get cool rewards when you click on the button to pledge your support through Patreon.