THE WARD
Groupthink doesn't live here, critical thought does.
This ad-free website is dedicated to Agnès Varda and to Luis Buñuel.
Get cool rewards when you click on the button to pledge your support through Patreon. Thanks a lot pal! Your kind generosity keeps the reviews coming!
John Carpenter, the man responsible for reinventing the horror genre in 1978 with "Halloween," retains his trademark ability to wrench suspense.
Unfortunately, his dated sense of character and narrative development has diminished considerably over the years. Screenwriters Shawn and Michael Rasmussen are of little use in this department. So it goes that Carpenter's first film since "Ghosts of Mars" in 2001 comes off as a naively pleasant but rambling exploration in old-school horror. You'd have to be a pretty inexperienced audience member to catch a chill up your spine.
Amber Heard holds her own as Kristen, a koo-koo-in-the-cabeza abduction victim consigned to North Bend Psychiatric Hospital, a '60s-era mental institution, after she burns down the farmhouse where she was once victimized.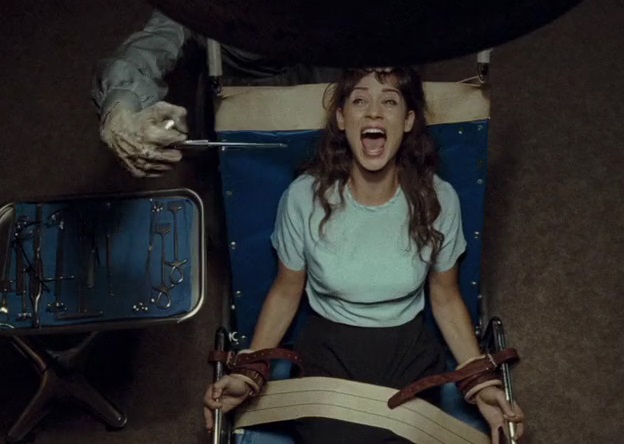 Under the supervision of electroshock-therapy proponent Dr. Stringer (Jared Harris), Amber takes her place among four fellow female crazies of classic horror character archetypes. A gray-skinned ghost-girl lurks the ward at night intent on killing the lunatic inmates one by one. The sane-seeming Kristen figures out that she must escape the hospital at any cost if she is to survive. A cruel nurse and a not-so-cruel orderly don't present as much menace as the filmmakers imagine. We never experience a sufficient level of dread or danger. Auditory sound queues signal knee-jerk shocks that never go beyond the ears.
Cinematographer Yaron Orbach's widescreen camera work invigorates the limp storyline. Nevertheless, bland production and lighting design elements give the film the look of a cheap soap opera. "The Ward" is a mediocre horror movie that needed a couple of major rewrites to be ready for modern audiences. Not even John Carpenter can shine this turd.
Rated R. 88 mins.