BRIGHTON ROCK
Groupthink doesn't live here, critical thought does.
This ad-free website is dedicated to Agnès Varda and to Luis Buñuel.
Get cool rewards when you click on the button to pledge your support through Patreon. Thanks a lot pal! Your kind generosity keeps the reviews coming!
England's 1964 mods-and-rockers-era (the scene depicted in The Who's "Quadrophenia") comes under a noirish light in writer-turned-director Rowan Joffe's moody filmic adaptation of Graham Greene's 1938 novel.
Sam Riley ("Control") plays 17-year-old gangster Pinkie Brown, the same character Richard Attenborough played in John Boulting's 1947 original film version of the same story. Stoic Pinkie is forced to reevaluate his place on the lower rungs of gangland after his criminal mentor Kite (Geoff Bell) is murdered on a dark street by a rival gang. Ordered by his crew to put some fear into the gangster who killed Kite, Pinkie's initial tentative effort earns him a nasty scar on his otherwise unblemished cheek. Riley's Pinkie is a tortured anti-hero who draws you into liking him regardless of his despicable nature.
On Brighton's famous pier Pinkie is photographed with his soon-to-be-victim and a young woman named Rose (Andrea Riseborough). Rose is the only witness who could potentially finger Pinkie as the person last seen with the man escorts under the pier. Pinkie sizes up the homely Rose as a submissive girl he can best control through seduction.
The film's centerpiece of character discovery comes during an unforgettable scene wherein Pinkie makes a recording for Rose. He stands inside a coin-operated booth speaking a truth that Rose can only guess at as she peers in through a window, unable to hear Pinkie's testimonial. Misplaced love never seemed so tragic.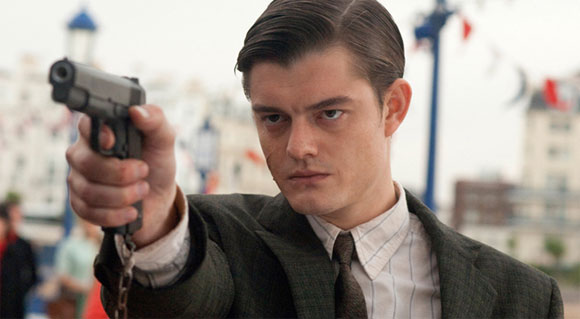 Joffe makes the most of Brighton's overcast setting to give a communal sense of the culture's compressed social structure. Although meticulously filmed in color by cinematographer John Mathieson ("Gladiator"), the film feels like you're watching a black-and-white movie made at the end of the '50s. The audience gets a visceral impression of the economic depression and psychological tenor of the time and place.
Helen Mirren draws on her experience to bring colors of emotion as Ida, the owner of an elegant teahouse. Ida sees through Pinkie's romantic handling of Rose, who works for her as a waitress. A soft-peddled romance between Mirren and the ever-enjoyable John Hurt lends a grace note of kindness to a character study of a young man incapable of love.
Not Rated. 111 mins.