DRIVE — CANNES 2011
Groupthink doesn't live here, critical thought does.
Welcome!
This ad-free website is dedicated to Agnès Varda and to Luis Buñuel.
Get cool rewards when you click on the button to pledge your support through Patreon.
Thanks a lot acorns!
Your kind generosity keeps the reviews coming!
Playing with a William Friedkin-like level of patient intensity, atmospheric style, and shocks of violence Dutch director Nicolas Winding Refn creates his own 21st century dialectic of cinema. Part love story, part black comedy, and part crime thriller "Drive" is a film-lover's dream. Hossein Amini's adaptation of James Sallis's pulp novel provides Ryan Gosling with the kind of cool-blooded character actors would kill to portray. Known only as Driver, Gosling wears a trademark silver racing jacket with a big gold scorpion embroidered on the back. His curious fashion sense matches his singular motivation to drive...fast.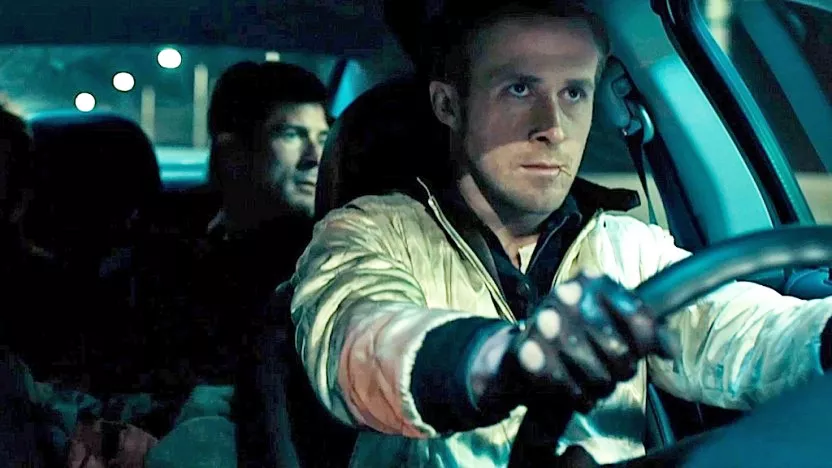 Driver is a "five minute" man. For the right price he will navigate L.A.'s "100,000 streets" as a getaway driver. Whatever happens before or after his five minute work schedule begins or ends is up to the client. One thing is guaranteed; his escape will be clean. His clients' fates are less certain. During the day Driver works as a mechanic when he isn't performing driving stunts in Hollywood movies. When we see Driver dressed as a cop before filming a stunt, it's telling how convincing Driver is as an actor. The layers of Gosling's stoic Driver run thick and many.
Driver's apartment neighbor Irene (Carey Mulligan) snaps him out of his laconic loner routine. Irene has a boy named Benicio whose dad's release from prison is coming up. Such unnecessary exposition is mercifully kept out of the way of the mostly silent chemistry that passes between the would-be lovers. Careful and restrained, a romantic tension slowly builds. It crescendos with an elevator kiss in the presence of a hit-man. When Refn breaks the spell with a disgusting act of violence, every plotline and character line that has come before coalesces into a vortex of repulsed emotion. The lovers have a test. How much uncertainty can a new relationship withstand?
To give anymore of the plot away would be a sin. Suffice it to say Driver is a man of secrets. He lives by a strict code that only becomes apparent through his actions. Driver isn't telegraphing anything. Still, he does have a temper.
"Drive" is an impossibly glamorous and gritty film filled with nooks and crannies bursting with action goodness. Sam Peckinpah has clearly been a profound influence on Nicholas Wending Refn. Like Peckinpah — the genius filmmaker behind such classics as "The Wild Bunch" (1969) and "The Getaway" (1972)--Refn understands the menace of sensuality and the sexiness of machines. He knows how to exploit these cinematic elements for all they're worth. Hopefully, Refn will not be co-opted and degraded by Hollywood as so many gifted directors before him have been.
The moody techno soundtrack by Cliff Martinez is the hippest thing around. Sexy, violent, and stylized like you can't believe, "Drive" is a big-screen movie that oozes charisma and pops with brutality. Yum.
Rated R. 100 mins.