SHAOLIN
Director Benny Chan's "Shaolin" fits snugly into the current spree of Chinese nationalistic — read brazen propaganda — martial arts films coming out of the country at a regular clip. Written in bold broad strokes by a committee of five screenwriters, "Shaolin" hits every major, minor, and dominant chord of religious and nationalist pride with a resounding clang. That's not to say "Shaolin" isn't entertaining (it very much so is) it's just that there isn't any subtlety to be found between its fast foot work and blinding sword play.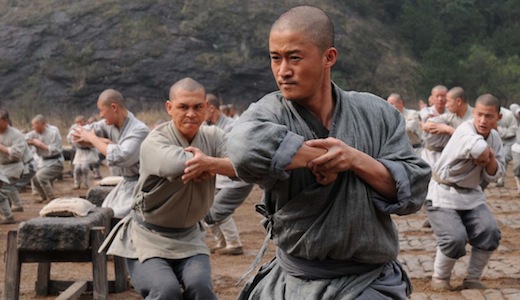 This gong-banging approach to "praise Buddha" in the passing events after the 1911 fall of the Qing dynasty is focused inside a Shaolin temple martial arts school situated in a peaceful valley. The charismatic Andy Lau plays General Hou Chieh, a ruthless warlord intent on keeping the riches his army has recently won after taking over the township of Tengfeng. Hou and his younger brother, lieutenant Tsao (Nicholas Tse), show no mercy against their rivals. While the temple's monks feed and care for Tengfeng's displaced refugees, Hou arranges a coup against an aging rival whose true intentions prove honorable in the fleeting moments before his assassination. Forced into hiding, Hou reinvents himself as a Shaolin monk with the help of an especially benevolent monk played by Jackie Chan.
A subplot involving Robin-Hood-monks goes astray. Some Western audiences will be left in the lurch regarding Chinese historic references that they'll wish they had brushed up on before seeing the movie. Still, overlooking the film's finer points that are lost in translation, it's interesting to see such an ornate and bombastic piece of Chinese propaganda realized with such dynamic energy. "Shaolin" compares favorably with the biggest blockbuster Hollywood has to offer.
Rated R. 130 mins.
Groupthink doesn't live here, critical thought does.
This website is dedicated to Agnès Varda and to Luis Buñuel.
Get cool rewards when you click on the button to pledge your support through Patreon.