THE PERFECT AGE OF ROCK 'N' ROLL
From its opening frames you know you're in knock-off land. But more than that, you're watching a knock-off of a knock-off movie that has the audacity to attempt to authenticate its rock 'n' roll credibility by casting a giant like Peter Fonda in a supporting role. Shame. It hardly seems necessary to dissect the storyline of debut writer/director Scott Rosenbaum's cinematic regurgitation.
The film was finished in 2009, but has finally reared its ugly head for a theatrical distribution that won't register a blip on anyone's radar. Kevin Zegers plays Spyder, a washed-up rock star who grants a rare interview in the discomfort of his trashed abode to allow for a flashback journey.
The story follows Spyder's dive-bar road tour of America toward recording his last and never released album.
Cut to ego-freak Spyder imposing on his disenfranchised former bandmate/songwriter Eric Genson (Jason Ritter) to rejoin his world of snotty drugged-out madness. Somebody's got to write the songs because Spyder certainly isn't capable. Peter Fonda plays chaperone/tour-bus driver August West. Taryn Manning takes one for the team as Rose, the band's musically knowledgeable manager.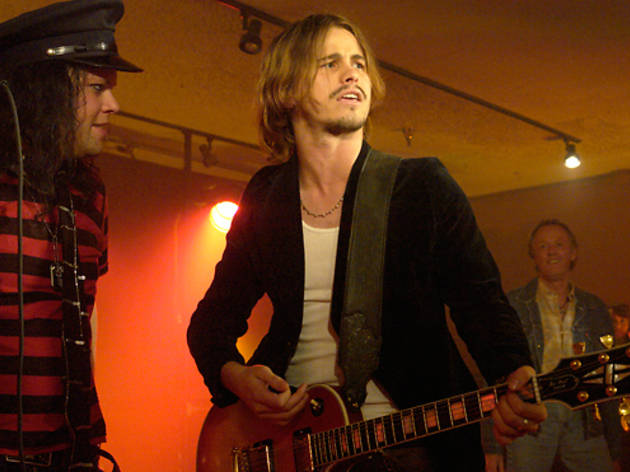 Hear Jason Ritter sing and play the crappiest version of The New York Dolls' "Lonely Planet Boy" you've ever heard. Watch as Eric falls for Rose even though she'll always spread her ankles for Spyder. Witness how coke, booze, and jealousy ruin an already dubious musical endeavor. If this sounds like a good time at the movies, think again. Get another tattoo instead.
Rated R. 92 mins.
Groupthink doesn't live here, critical thought does.
This website is dedicated to Agnès Varda and to Luis Buñuel.
Get cool rewards when you click on the button to pledge your support through Patreon.