ABDUCTION
Groupthink doesn't live here, critical thought does.
This ad-free website is dedicated to Agnès Varda and to Luis Buñuel.
Get cool rewards when you click on the button to pledge your support through Patreon. Thanks a lot pal! Your kind generosity keeps the reviews coming!
"Twilight" actor Taylor Lautner proves out of his element in his first, and possibly last, shot at a leading role. You know "Abduction" is in trouble from its opening scene.
Lautner's 17-year-old beefcake character Nathan rides on the hood of his pal's truck as the vehicle hits speeds above 70 miles per hour. Clearly Nathan has a death wish, or simply isn't playing with a full deck.
Either way he doesn't engender much audience empathy. Nathan gets so drunk he passes out overnight on the front lawn of a party where his love-interest neighbor Karen (Lily Collins) is in attendance with a guy equal to Nathan's diminished IQ.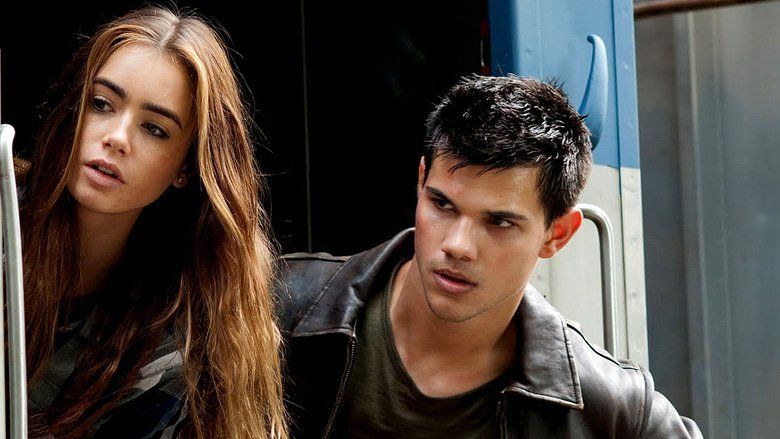 Plodding plot points grind through changes. At his sunny suburban home poppa Kevin (Jason Isaacs) likes to employ full-contact sparring as a way of preparing Nathan for a violent outside world that threatens to attack without notice. Mom Mara (Maria Bello) chooses probation as the best way to discipline an only child with a history of violence. Nathan's shrink Dr. Bennett (Sigourney Weaver) has made great strides with developing Nathan's skill-set for handling his wild temper if not his suicidal tendencies.
The proverbial crap hits the fan after Nathan discovers, through some online research, his "parents" aren't his biological creators. This occurs on an eve of destruction executed by foreign baddies who wipe out Nathan's house and kill the people he has called mom and dad since he can remember.
There's irony in the fact that no "abduction" actually occurs. The film's MacGuffin lies in a cell phone with coded names that Nathan stumbles upon. Filled with dialogue that hits the floor like syrup on a wet sponge, and chase scenes that barely register a pulse, "Abduction" is a less than disposable action thriller; it's pre-disposable.
Rated PG-13. 106 mins.