SHARK NIGHT 3D
Groupthink doesn't live here, critical thought does.
This ad-free website is dedicated to Agnès Varda and to Luis Buñuel.
Get cool rewards when you click on the button to pledge your support through Patreon. Thanks a lot pal! Your kind generosity keeps the reviews coming!
You know you're in trouble from the start when director David R. Ellis ("Snakes on a Plane") resorts to fast-forwarding though opening sequences so that scenery and actors move at hyper speed. It's a cinematic cliché used by amateur filmmakers searching for something to say.
Any temptation to associate "Shark Night 3D" with last year's R-rated guilty pleasure "Piranha 3D" is thwarted via "Shark Night's" lesser PG-13 rating.
The movie falls into the predictable pattern of every other slasher flick with our group of nubile twentysomething college kids running into confrontation at a small-town gas station where a couple of local hicks make their baleful intentions known.
Dennis (Chris Carmack) wears an impressive scar under his right eye as a testament to the volatile relationship he had three years ago with college squad leader Sara (Sara Paxton). Dennis's pal Red (Joshua Leonard) is several cards short of a full deck. Once at Sara's lakeshore house our party animals indulge in some hotdog water skiing that costs a member of the group a limb to a very fast swimming shark. A gigantic hammerhead swimming in the saltwater bayou is to blame.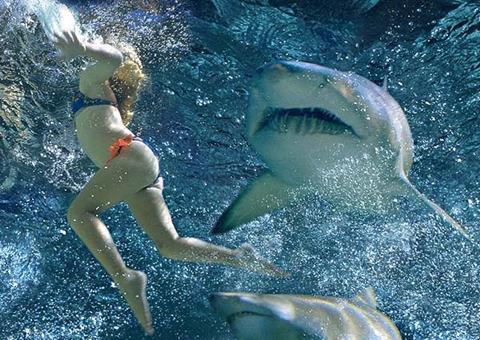 Attempts at getting said victim to a hospital meet with mixed signals from Dennis and Red as the only people around to assist in the desperate situation. Donal Logue plays Greg, the area's slacker Sheriff who takes his job about as seriously as he does his air-drumming hobby.
For a shark horror movie, there are hardly any of the shocks or sustained suspense audiences should expect from the genre. Most lacking is any sense of humor or style in a film that aspires to mediocrity and achieves it all too easily.
Rated PG-13. 91 mins.