THE GENERAL — CLASSIC FILM PICK
Groupthink doesn't live here, critical thought does.
This ad-free website is dedicated to Agnès Varda and to Luis Buñuel.
Get cool rewards when you click on the button to pledge your support through Patreon. Thanks a lot pal! Your generosity keeps the reviews coming!
Buster Keaton considered "The General" his best film although it flopped at the box office and effectively ruined his career.
Made in 1927, the big budget silent film follows Keaton's expressionless train conductor Johnnie Gray. Johnnie keeps a framed photo of his fiancée Annabelle Lee (Marion Mack) by his side as he operates the enormous Southern steam locomotive (the General) toward Annabelle's home in Marietta, Georgia.
It is the spring of 1861. During his brief visit with Annabelle the Civil War breaks out. Annabelle makes clear she will have nothing to do with Johnnie unless he enlists in the Confederate army. In spite of Johnnie's best efforts to be the first man to enlist, he's turned away at the recruiting office because he's more valuable to the South in his occupation as a Western & Atlantic Railroad engineer. Unfortunately, no one tells Johnnie the reason they won't allow him to enlist.
The film's centerpiece, a 140-mile locomotive chase-sequence between Marietta and Chattanooga, starts off when a band of Union spies steal the General with Annabelle coincidentally on-board. Oblivious to Annabelle's entrapment, Johnnie chases his prized train on foot before reverting to a handcar, a bicycle, and finally taking over a cannon-equipped locomotive dubbed the Texas.
During the ensuing train-on-train chase Keaton performs mind-boggling stunts of balanced precision as he walks and crawls over every inch of the speeding train to do things like fire its cannon or clear railroad ties thrown by the enemy on the tracks in front of him. Keaton's graceful physical poise operates in harmony with the calm facial expression he keeps throughout every episode of brawny spectacle. The gifted actor displays an intimate working knowledge of trains in the masterful way he effortlessly manipulates the heavy machinery.
The outline for the story was based on William Pettenger's memoir "The Great Locomotive Chase." A wildly spectacular climax involving a bridge collapse is still impressive by modern standards. Still, the joy of watching "The General" lies in Buster Keaton's carefully planned stunts that seem instantly improvised in their execution.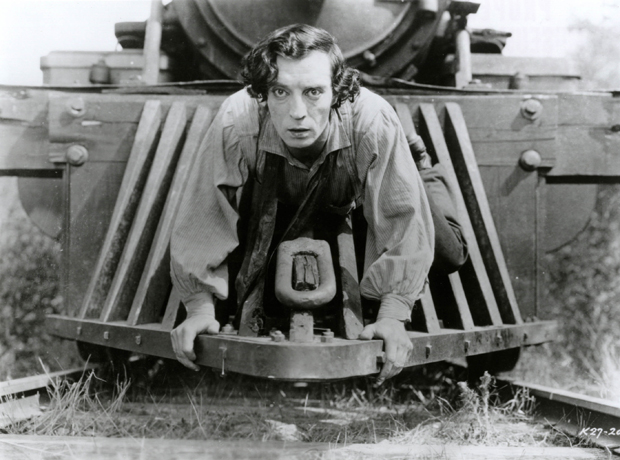 The contrast between the emotional restraint of Keaton's character and his constant exertion of fluid energy is a marvel to behold. "The General," with its updated soundtrack, is a cinematic masterpiece that holds its own against anything Hollywood has created since. There was only one Buster Keaton. "The General" is his swan song.
Not Rated. 67 mins.