THE MILL AND THE CROSS
Groupthink doesn't live here, critical thought does.
This ad-free website is dedicated to Agnès Varda and to Luis Buñuel.
Get cool rewards when you click on the button to pledge your support through Patreon. Thanks a lot pal! Your generosity keeps the reviews coming!
Stunner. Very few audiences will ever see Lech Majewski's glorious work of filmic art.
What a shame.
"The Mill and the Cross" represents the closest that any filmmaker has come in the age-old pursuit of translating a painting into a living, breathing, cinematic context.
Without putting too fine a point on Majewski's accomplishment, with the help of some very dedicated crew members, "The Mill and the Cross" is a dazzling examination and explication of Pieter Brugel's fourteenth century panoramic masterpiece "The Way to Calvary."
Anyone familiar with Brugel's magnificent painting knows it depicts a complex tableau containing more than 500 citizens of Flanders in 1564. The occupying Spanish Army represents the authority responsible for carrying out Christ's execution before a huge crowd of followers. Rutger Hauer plays Brugel, whose patron Nicholas Jonghelinck (Michael York) commissions the painting.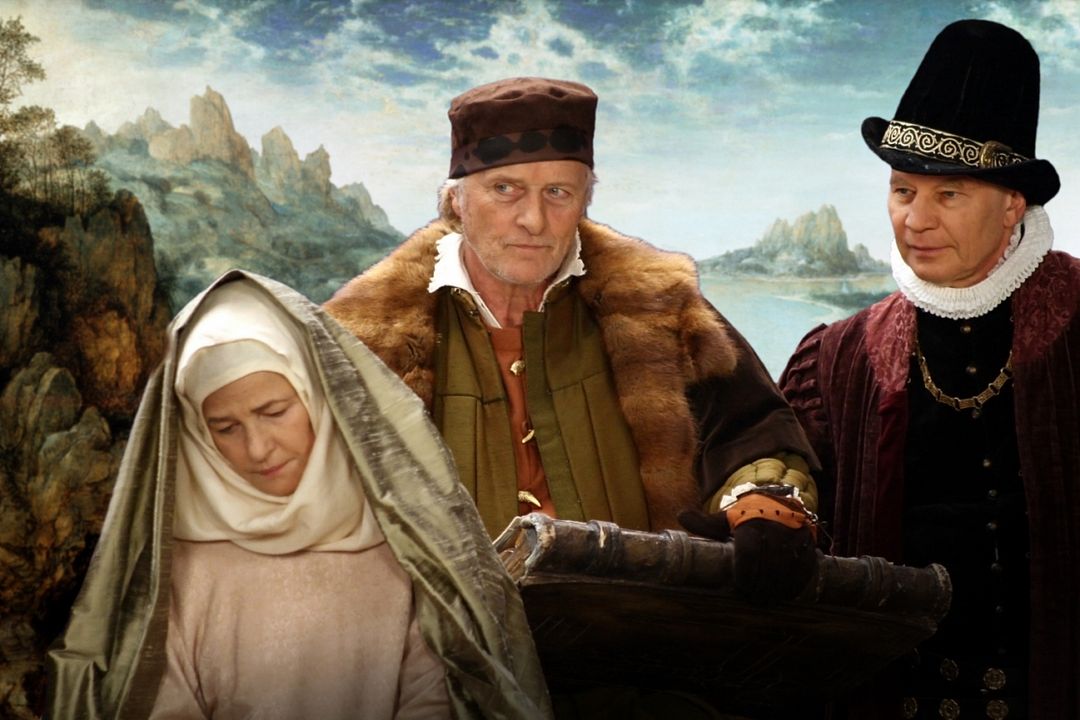 A spider web gives Brugel the compositional template to stage seven focal points for his manifold narrative. Christ's Passion is the barely visible drama that unfolds at the center of the landscape, set in a valley. A high tower-shaped rock mountain provides the elevated foundation for a overlooking mill that represents God's vantage point for all that transpires below.
History, art, and political criticism collide in Majewski's deconstructionist approach. A young farmer and his wife enjoy a picnic before being interrupted by the arrival of Spanish troops. The husband makes the mistake of running down the road where he must surely be captured and tortured before being tied to a Catherine wheel elevated in the sky where vultures pluck away at his tattered flesh.

Placing living actors against the background of Brugel's painting allows the filmmakers to use computer-generated technology in a way that cinemagoers have never experienced before. Much more so than a film like "Avatar," "The Mill and the Cross" exerts an imaginative use of 2D and 3D technology toward a film that invites the audience inside state-of-the-art technology to interpret an artistic statement of colossal scope. Critics say this a lot, but this film really should only be viewed on the big screen.
Not Rated. 97 mins.