THE WHALE
Groupthink doesn't live here, critical thought does.
This ad-free website is dedicated to Agnès Varda and to Luis Buñuel.
Get cool rewards when you click on the button to pledge your support through Patreon. Thanks a lot pal! Your kind generosity keeps the reviews coming!
The story of a lonely baby orca lost in Canada's Nootka Sound becomes a complex allegory for human interaction with animals and nature in this touching documentary narrated by Ryan Reynolds. Executive-produced by Scarlett Johansson and Reynolds during their marriage, "The Whale" is a captivating video diary of a doomed sea mammal.
Separated from its family pod in 2002, the attention-hungry orca that came to be named "Luna" (a.k.a. L98) adapts to human interaction as a substitute form of companionship.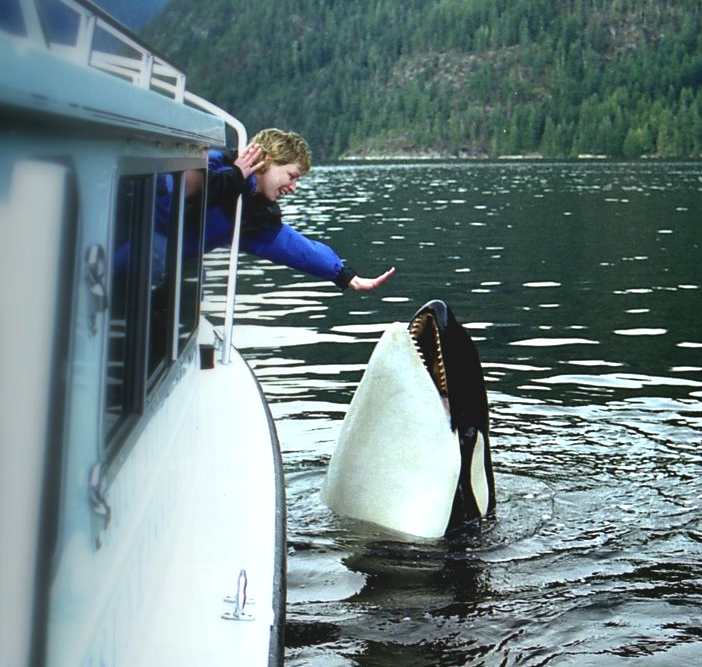 Married retired journalists-turned-documentarians Michael Parfit and Suzanne Chisholm become personally involved as activists for Luna while chronicling the whale's odyssey. We witness the fascinating animal as it creates lasting bonds with fishermen, loggers, and tourists whom it seeks out for physical contact.
You couldn't imagine a more affectionate wild animal. Much of the film's charm comes from truly amazing footage of Luna singing and using her body to instigate petting rituals with humans who are understandably mesmerized by her unusual behavior. Questions about Luna's safety, and that of the people she does or might encounter, fuels a fierce political battle that reaches to the area's local Native American tribe. The tribe views the animal as a reincarnation of its late chief.
It's tempting to discount "The Whale" as a piece of activist filmmaking with a photogenic circus-animal as its star. However, the film raises important ecological questions in a context of compulsory importance.
You can't help being spellbound by an intelligent whale whose personality demands attention. If animals are as important as people — and many people strongly believe they are—then taking inventory of how we treat exceptional creatures such as Luna reflects a much wider regard for all life on the planet. Educational, entertaining, and discussion-provoking "The Whale" is a family-friendly documentary that grows on its audience very quickly.
Rated G. 85 mins.