JOHNNY ENGLISH REBORN
Groupthink doesn't live here, critical thought does.
This ad-free website is dedicated to Agnès Varda and to Luis Buñuel.
Get cool rewards when you click on the button to pledge your support through Patreon.
Thanks a lot acorns!
Your kind generosity keeps the reviews coming!
While it doesn't live up to the quirky physical comedy the incomparable Rowan Atkinson is capable of, this follow-up to his 2003 spy spoof functions well enough as a worthy PG-rated comedy for kids.
Atkinson's James Bond knock-off finds himself pulled back into the service of MI7 after spending five soul-searching years in a Tibetan monastery where he has perfected such arcane skills as dragging a large rock by a string tied to his nether region.
Upon his return to London, English is shocked to find that Toshiba has taken over corporate control of the top-secret spy agency.
A nod to the Pink Panther films occurs whenever Mozambique comes up in conversation, sending Atkinson's rubbery face into a fit of eye-twitching spasms. Gillian Anderson takes over as MI7's leader, code-named Pegasus. A window ledge incident involving a pussy cat gives rise to one of the film's sillier moments when Jonny English mimes holding a feline that may have met with a tragic end.
The movie delivers earnest "Rush Hour" references when English is sent to Hong Kong with an African British junior agent assistant named Tucker (Daniel Kaluuya). A chemical weapon called Vortex serves as the story's driving plot MacGuffin. Vortex can only be enabled with the use of three keys, each held by a different person whom English must track down before the keys fall into the hands of a MI7 mole.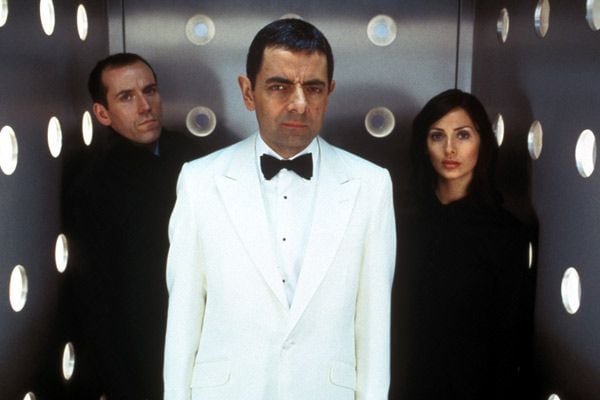 Screenwriter Hamish McColl mixes up a random mish-mash of spy movie influences for a sporadically funny comedy that children will appreciate more than adults.
Rated PG. 111 mins.