LA FEMME NIKITA — CLASSIC FILM PICK
Groupthink doesn't live here, critical thought does.
This ad-free website is dedicated to Agnès Varda and to Luis Buñuel.
Get cool rewards when you click on the button to pledge your support through Patreon. Thanks a lot pal! Your generosity keeps the reviews coming!
Before it spawned a cornucopia of television series knock-offs, writer/director Luc Besson's stylized 1990 French crime thriller set a new standard for the girl-with-a-gun movie trope.
We meet Anne Parillaud's junkie character Nikita walking with three thugs on their way to rob a pharmacy owned by the father of one of the group. One of the thugs carries a red axe. Dressed butch, Nikita is far from glamorous. The robbery escalates epically out of control when police arrive. Nikita comes away from the bloodbath as the sole survivor (after killing a cop point blank). In court she gets a life sentence without parole for 30 years. In guttural tones wild child Nikita promises to kill everyone in the courtroom.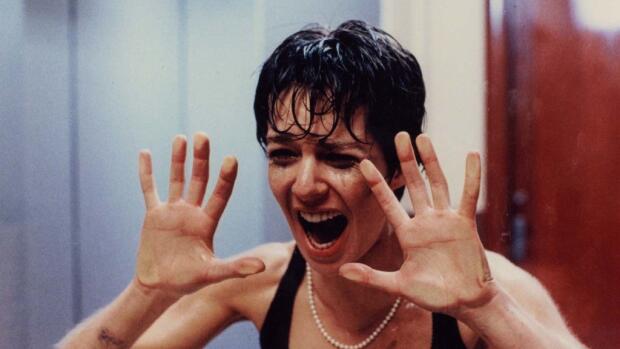 Still, Nikita's wanton disregard for authority and devastating ability to dole out and endure physical punishment earns her a top-secret place in an elite squad of government assassins. Officially, she is registered as deceased subsequent to suicide. Under the tutelage of her personal keeper Bob (Tchéky Karyo) and etiquette maven Amande (Jeanne Moreau), Nikita transforms from a primal punk monster into an elegant femme fatal.
The film scores heavily by sidestepping clichés in favor of ever-refreshing shifts in tone and atmosphere. Cinematographer Thierry Arbogast has a field day with Dutch angles and reflective surfaces. Television and computer monitors play a part. Posh hotel rooms segue into florescent-lit industrial kitchens.
Eric Serra's infectious techno musical score adds an undercurrent of propulsion to the story. There's a fetishistic look to the film supported by Anne Parillaud's sinewy frame, sexy attitude, and pixie hairdo. The film takes on a pro-working class tenor when Nikita enters into a romantic relationship with a grocery store clerk who dreams of building boats. Naturally, Nikita is called upon to perform her grisly duties during expensive dinners or when she's away on holiday with her boyfriend in Vienna — a gift from "uncle" Bob. The dichotomy between Nikita's personal life and her covert killing assignments give rise to the film's primary source of dramatic tension.
"La Femme Nikita" paved the way for Besson's 1994 equally groundbreaking crime thriller "Leon: The Professional," which introduced audiences to the young but talented Natalie Portman. "Nikita" also shined a light for a burgeoning brand of hyper-stylized crime thrillers that included Reservoir Dogs (1992), Romeo Is Bleeding (1993), and The Last Seduction (1994). Jean-Luc Godard's famous quote that, "all you need for a movie is a gun and a girl" may be an oversimplification, but Luc Besson proved the theorem very nicely with "La Femme Nikita."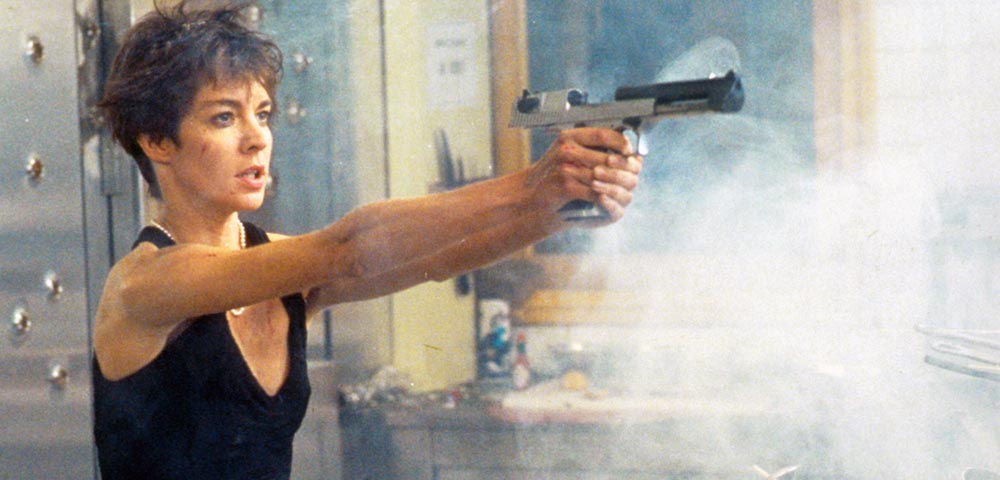 Rated R. 117 mins.