MY WEEK WITH MARILYN - NYFF 2011
Diamond in the Buff
Michelle Williams Embodies Marilyn Monroe
Michelle Williams delivers an Oscar-worthy performance playing screen siren Marilyn Monroe. The vehicle is director Simon Curtis's thoughtful adaptation of Colin Clark's diaries. At the age of 23 Clark worked as third assistant director to Laurence Olivier for his 1956 romantic comedy "The Prince and the Showgirl." The film came between "Bus Stop" (1956) and the all-time classic screwball comedy "Some Like it Hot" (1959). Eddie Redmayne movingly portrays Colin, the star-struck young Brit who momentarily wins the heart of the most sensual creature on the planet while serving as Marilyn's hand-picked liaison to the British theatrical world she encroaches upon with the aid of her acting coach Paula Strasberg.
Michelle Williams effortlessly evokes the tragic icon's fragile layers of insecurity and hopeless romanticism that cause her to slip into fits of manic depression. Williams's mesmerizing set piece performance of songs such as a climatic rendition of "That Old Black Magic" transports the film into a territory of erotic euphoria that Monroe stirred in the hearts and libidos of men. Equally effective is a charming dance number Williams reenacts from the film within the film. Williams's magical transformation into Marilyn Monroe is uncanny; you never question it for a moment. We witness the distinction between Norma Jeane Mortenson and Monroe's carefully developed alter ego as differing shades of emotional water color.
Eddie Redmayne is the film's secret weapon. Because the story is told from Colin's point of view, we share his character's hormonally charged excitement about "working" with Marilyn Monroe. Like Marilyn, Redmayne's Colin is himself a bundle of contradictions. He's tenaciously ambitious, and yet is still struggling to overcome his innate shyness. He's not yet in his skin.
The temporary presence of Arthur Miller (Dougray Scott) as Marilyn's husband of three weeks does little to stunt her erratic behavior when cameras aren't rolling or flashing. Kenneth Branagh is saddled with the thankless task of playing Laurence Olivier who, as the film-within-the-film's director couldn't care less about Monroe's commitment to method acting even if its results are undeniable.
A supporting character arc comes through his character's gaining respect for the American actress he not-so-secretly hopes to bed. Branagh's portrayal of the man who famously served as England's greatest actor for several decades is at cross purposes with Williams's necessarily posed and poised performance.
You don't get the sense that Branagh is in any way emulating Olivier, but is rather interpreting the character for himself. Branagh's approach is a sound one because it removes any sense of competition with Michelle Williams to fulfill her character in the most physically accurate and emotionally truthful way.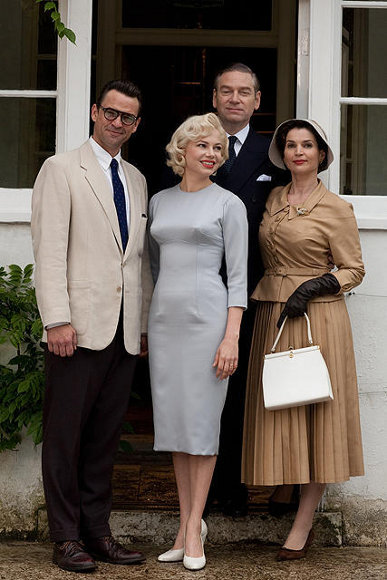 Although the movie has its weak spots — Julia Ormond gives a one-note portrayal of Vivian Leigh, and Zoe Wanamaker veers toward caricature as Paula Strasberg — Michelle Williams delivers a deftly multi-dimensional character study built on truthfulness and soul. "My Week With Marilyn" isn't just a gem; it's a diamond.
Rated R. 101 mins.
This website is dedicated to Agnès Varda and to Luis Buñuel.
Groupthink doesn't live here, critical thought does.
 Get cool rewards when you click on the button to pledge your support through Patreon.