PYAASA — CLASSIC FILM PICK
Groupthink doesn't live here, critical thought does.
This ad-free website is dedicated to Agnès Varda and to Luis Buñuel.
Get cool rewards when you click on the button to pledge your support through Patreon.
Thanks a lot acorns!
Your kind generosity keeps the reviews coming!
Writer/director Guru Dutt's masterpiece of Bollywood cinema is notable for its infectious songs and politically charged story about a melancholy poet whose life of abject misery and pseudo posthumous success eventually finds its level in his ostensible escape from India.
The director plays the role of the film's protagonist Vijay, an unsuccessful but gifted poet whose poems are sung for narrative import throughout the film. Vijay's cruel brothers sell his poems for scrap paper. Still, Vijay manages to getting his work published. An encounter with a beautiful prostitute named Gulabo (Waheeda Rehman) causes the young woman to fall in love with the poet who is the only man to show her respect and kindness.
Moody Vijay is happy to reunite with his former girlfriend from college, Meena (Mala Sinha), but doesn't approve of her marriage of convenience to the wealthy Mr. Ghosh (Rehman), a book publisher of great influence. Vijay takes a job at Mr. Ghosh's company in the hope that he will finally get his poetry published. Sadly, only old established poets get published in '50s-era India.
Filmed in black and white and featuring a host of caricature archetypes, "Pyaasa" captures a unique sense of intellectual idealism and unfettered romanticism. However naive, its themes of individuality and independence stand as an angry shout against a soul-sucking materialism that runs rampant across all strata of social classes.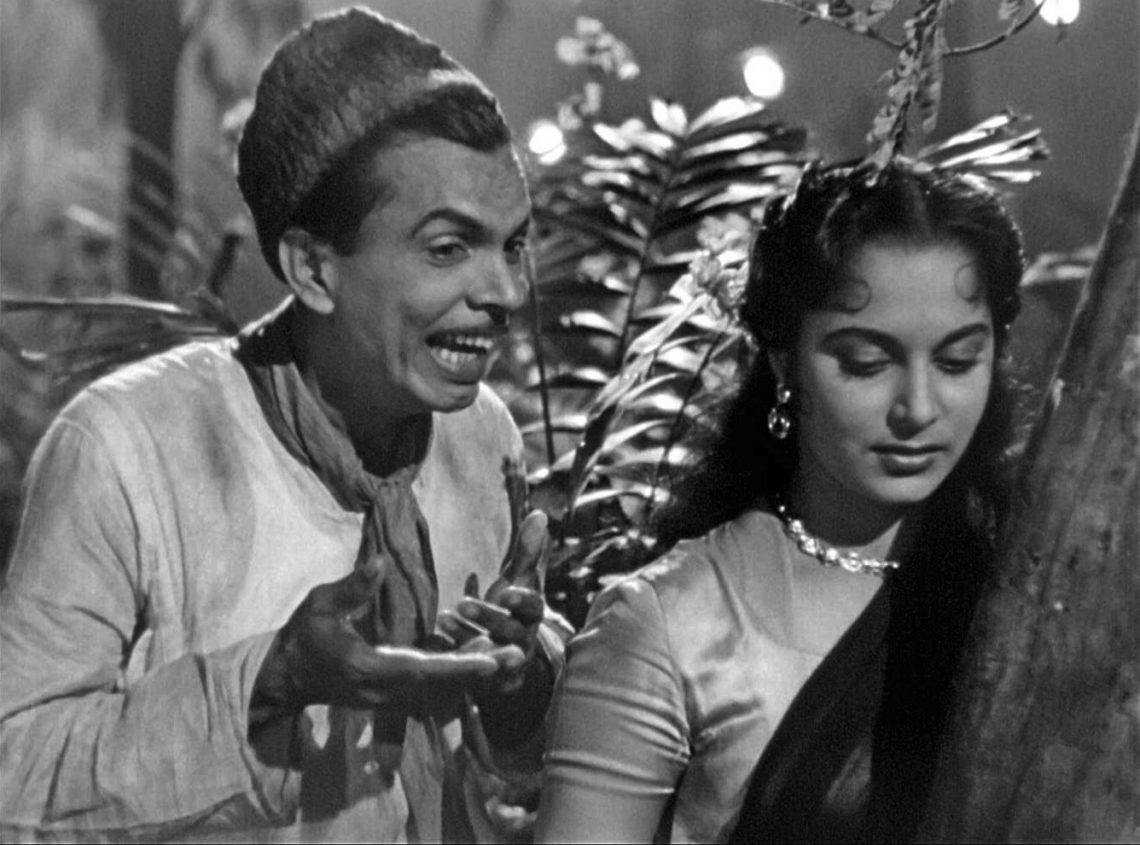 Full of iconic imagery, ethereal music, precise staging, and volleys of emotional ideas, "Pyaasa" is a landmark example of Bollywood filmmaking at its best. There's an epic quality to way Vijay approaches his life. The threat of his death comes as a terrible shock of sad reality. For as much as the film slips into reveries of musical fantasy, it also gravitates toward a kind of kitschy neo-realism.
Nowhere else in cinema will you find such divergent styles running side by side so eloquently. An authentic soulfulness betrays the glossy surface approach taken by so many filmmakers for later Indian films. "Pyaasa" marked a high watermark for Guru Dutt, and left the world with a pure tour de force of Bollywood cinema.
Not Rated. 146 mins.