SLEEPING BEAUTY
Groupthink doesn't live here, critical thought does.
This ad-free website is dedicated to Agnès Varda and to Luis Buñuel.
Get cool rewards when you click on the button to pledge your support through Patreon. Thanks a lot pal! Your generosity keeps the reviews coming!
A bold feminist exploitation think-piece about the perceived and disguised societal demands placed on women, "Sleeping Beauty" is a hauntingly erotic film that languishes in the recesses of your subconscious. What more could you ask for?
With the producing endorsement of famed director Jane Campion ("The Piano"), Australian novelist-turned-filmmaker Julia Leigh explores what she terms "Wonder Cinema" by way of the Sleeping Beauty fairy-tale, upon which she embellishes and extrapolates.
Yasunari Kawabata's "The House of Sleeping Beauties" and Gabriel Garcia Marquez's "Memories of My Melancholy Whores" are meaningful tomes of reference.
Waifish Emily Browning ("The Uninvited") is Lucy, an Australian college student working various jobs to make ends meet. She gives her esophagus and stomach up to paid medical testing, works in a restaurant, and collates copies for a tyrannical female boss. In her spare time the free-spirited lass likes to indulge in spontaneous meat-market pick-ups with random men and women. Casual drug use is also on her menu. Ideals of shame or restraint are not in Lucy's vocabulary. She's a poker-faced extreme urban explorer.
Emily takes on a high-paid position as a nude banquet server for private dinner parties in the private mansion of an elegant Madame named Clara (Rachael Blake). After serving her first dinner party, Lucy burns a hundred dollar note from her ample pay. Capitalism, you see, isn't her motivation in life. The fearless femme de provocation is promoted to the position of a sleeper.
Mistress Clara administers a sleeping potion that ensures Lucy's unconscious state for a male client to do with as he pleases in bed--short of marking or penetrating Lucy's ridiculously nubile body.
The idea of semi-impotent older men paying to lie next to an unconscious woman connects to the obvious choice one such man might make to end his life during the experience. The three episodes we witness reflect on damaged male psyches grappling desperately for a self-identifying, albeit clinical and economic, conquest. Each episode is prefigured by a host/client chat which allows for some character explanation on the part of the ostensibly misogynistic men.
In her private time Lucy likes to spend time with her best friend, an alcoholic bachelor edging closer to committing suicide. The two communicate in a shorthand of polite repartee that disguises their deeper emotional issues. The subplot is the most forced in the film, but contributes a layer of altruism to Lucy's transparent identity.
This deeply sensual character exists at the polar opposite of American cinema's Mumblecore movement of dumbed-down slackerdom. Lucy takes action with gusto even if it means giving herself wholly over to an experience with which she cannot consciously interact. "Sleeping Beauty" is an artistic exploitation film meant to rankle bourgeoisie attitudes of propriety. It's a dirty job, and Julia Leigh has done it with panache.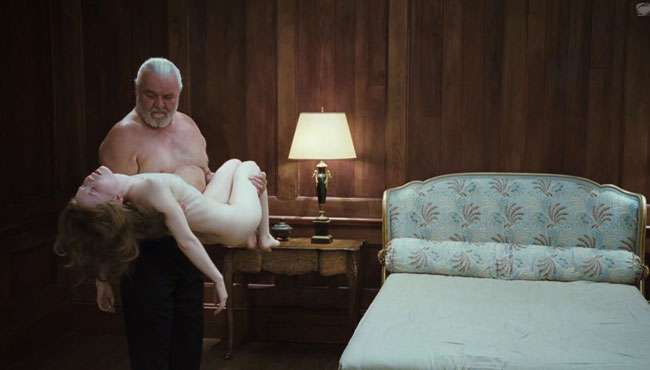 Not Rated. 104 mins.