THE BIG YEAR
Groupthink doesn't live here, critical thought does.
This ad-free website is dedicated to Agnès Varda and to Luis Buñuel.
Get cool rewards when you click on the button to pledge your support through Patreon. Thanks a lot pal! Your kind generosity keeps the reviews coming!
Evidently someone forgot to inform David Frankel he was directing a comedy. The memo seems to have also slipped past screenwriter Howard Franklin, who found a way to leave out any laugh inducing scenes or dialogue from a script that would probably take as long to read as it did to write.
"Inspired" by Mark Obmascik's book about a year he spent indulging in a bird-watching competition, "The Big Year" starts out at a huge deficit considering that 99.9% of the movie-going public know nothing about the hobby of "birding" and could care even less.
But that's what the story's about, so here we go. Stu (Steve Martin), Brad (Jack Black) and Kenny "Bostick" (Owen Wilson) share a common love of traveling the globe to catch a glimpse of every species of bird they can possibly lay eyes on.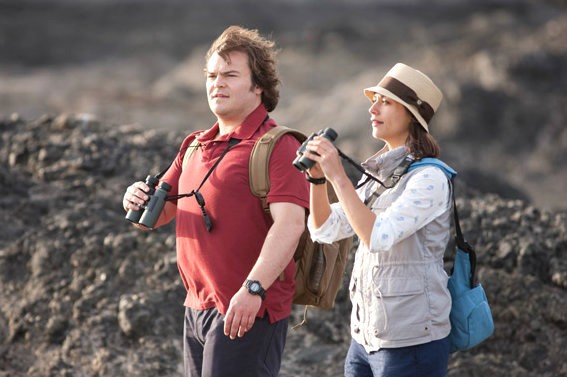 What separates the one-track-minded Bostick from the other two birders is that he holds the world record for tracking down 732 bird species in the course of a single year. Bostick is the champ. He's an asshole, but he's the guy to beat. Based on the honor system, the British-invented bird-watching competition calls upon its participants to keep count of the species each witnesses or hears—that's right, even just hearing the call of a particular bird does the job.
Even though our three bird-lovers keep meeting up with each other, and the 25 or so other bird-nerds engaged in running off to remote regions whenever a particular sighting is announced through their back-channels of information, they pretend not be working on a "Big Year." Such is the intrigue of the drama. Snooze. Oh there's plenty of boring subplot stuff about Bostick's get-pregnant-crazy wife Jessica (Rosamund Pike), and Brad's romantic pursuit of fellow birder Ellie (Rashida Jones), but there's nothing here to hang your hat on.
What's most surprising is what short-shrift the filmmakers give to the birds, which is ostensibly the one thing the film's potential 120 person target-audience would go see the movie for in the first place.
"The Big Year" won't make you laugh. It won't make you care anymore about birds than you already do, or don't. The only thing the movie does is raise a question about the sanity of everyone involved with making the picture in the first place. It might not be in the running for the worst Hollywood movie of 2011, but then again it might.
Rated PG. 100 mins.