THE BLUES BROTHERS — CLASSIC FILM PICK
Groupthink doesn't live here, critical thought does.
This ad-free website is dedicated to Agnès Varda and to Luis Buñuel.
Get cool rewards when you click on the button to pledge your support through Patreon.
Thanks a lot acorns!
Your kind generosity keeps the reviews coming!
Made in 1980 — two years after director John Landis's enormously successful "Animal House" — "The Blues Brothers" brought Landis together once again with John Belushi. What resulted is an epic musically charged comedy, the likes of which has never been seen before or since.
If you wanted to introduce the uninitiated to the comic genius of John Belushi, there is no better movie of his to summon up than "The Blues Brothers." So much of Belushi's infectious sense of humor derived from his unbridled passion for music.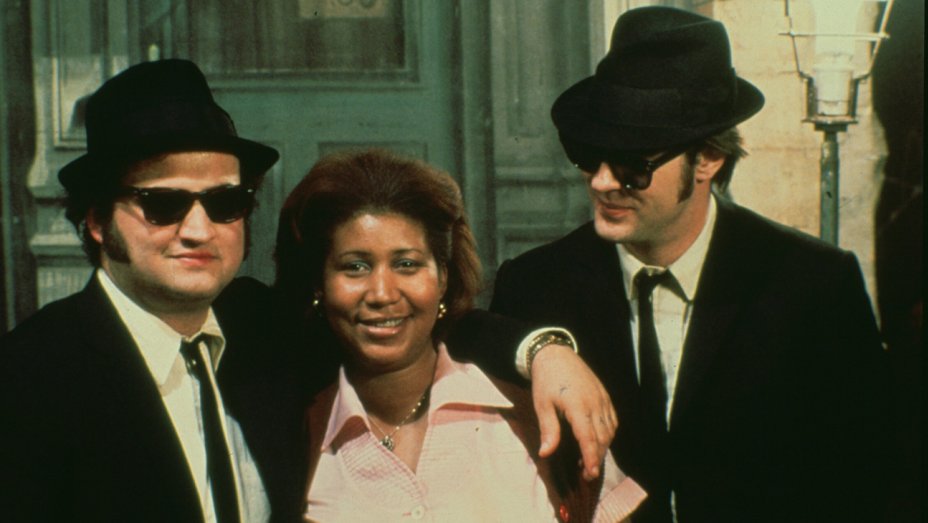 Here Belushi lives out a carefully scripted fantasy for his alter ego "Joliet" Jake, a Chicago bluesman who gets released from prison only to receive a message from God — via the Godfather of Soul himself James Brown--to reunite the R&B band he previously shared with his brother Ellwood (Dan Aykroyd). However, it's not just any band. It's an all-star group made up of Booker T & the M.G.s guitarist Steve "The Colonel" Cropper and bassist Donnald "Duck" Dunn. Bar-Kays drummer Willie "Too Big" Hall plays opposite guitar legend Matt "Guitar" Murphy. And the list goes on. Suffice it to say that the ancillary Blues Brothers album recorded to support the film is as good as it gets.
Charged with raising $5000 to save the Roman Catholic orphanage where they were raised, Jake and Elwood drive their disused police car (the "Bluesmobile") like a couple of bats out of hell. Eye-popping car stunts come at regular intervals. While tracking down former bandmates, our similarly black-suited duo attracts the attention of the Illinois State Police, along with a group of white supremacists called the "Illinois Nazis," and Jake's gun-toting ex-girlfriend (Carrie Fisher). An impromptu gig at a country-and-western roadhouse incurs the wrath of yet another group of bloodthirsty pursuers.
High-speed car chases lead to mind-bending car crashes that come between exciting music set pieces which feature the likes of Aretha Franklin, Ray Charles, John Lee Hooker, Cab Calloway, and of course the Blues Brothers Band. There's an unmistakable love of Chicago's blue-collar culture at play throughout the film. Belushi and Aykroyd are clearly having the time of their lives performing on stage with musical legends.
"The Blues Brothers" is a joyful celebration of R&B music that came at a crucial time when American cinema had the impetus to do so in an energetic way. John Belushi was an amazing dynamo for the cause.
Rated R. 133 mins.