THE SKIN I LIVE IN — NYFF 2011
Groupthink doesn't live here, critical thought does.
This ad-free website is dedicated to Agnès Varda and to Luis Buñuel.
Get cool rewards when you click on the button to pledge your support through Patreon.
Thanks a lot acorns!
Your kind generosity keeps the reviews coming!
Pedro Almodóvar proves himself an apt technician at sustaining suspense in the thriller genre. Antonio Banderas returns to work with Almodóvar for the first time in over 20-years, since his memorable performance "Tie Me Up! Tie Me Down!."
The years have been kind to Banderas who brings his A-game to a deliciously diabolical role. Plastic surgeon Robert Ledgard (Banderas) is a mad scientist with plenty of method to his particular madness of creating an indestructible skin. His wife died in a car fire. His daughter committed suicide. He harbors vengeance. But why?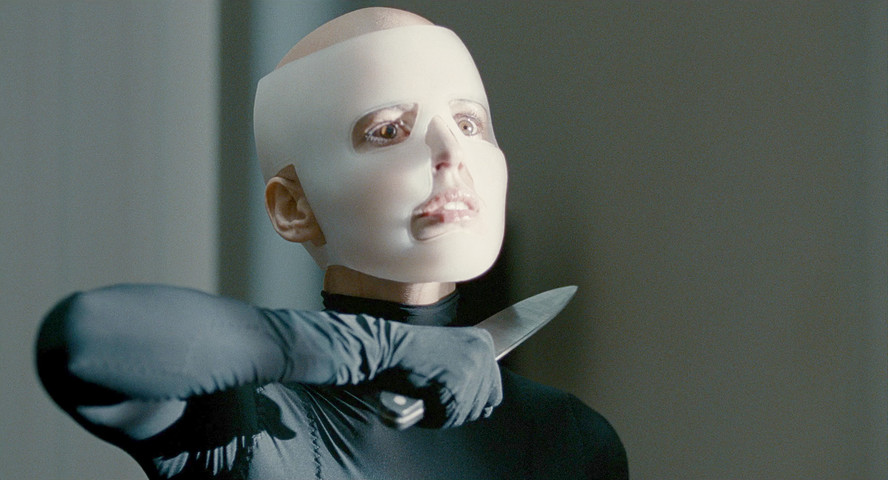 The Toledo-based doctor conducts experiments in the privacy of his luxurious mansion laboratory. Not even Dr. Frankenstein had it so good. His mother (Marisa Paredes) serves as his dutiful maid. Almodovar's meticulous attention to detail keeps you hypnotized. Every visual component is exact in color, placement, and scale.
The evil doctor uses a human being to live inside the hybrid-pig-DNA membrane he has perfected. His comely patient Vera (Elena Anaya) is confined to a large room. Vera wears a skin-tight body suit and practices yoga for hours on end. Dr. Ledgard secretly observes his human specimen through a large two-way mirror. Elena Anaya is an exquisite object of fetishistic delight for Almodovar to pour his patient camera over. 
Based on Thierry Jonquet's novel "Mygale" "The Skin I Live In" is a haunting film that tips its hat to Alfred Hitchcock. There's a goodly dose of Georges Franju's 1960 French horror classic "Eyes Without a Face" at play here. Elliptical time shifts tell the story in a disjointed fashion that makes you want to see the film twice even as you're watching it. There's mystery here to savor as you would any great piece of cinematic art. Pedro Almodóvar has created a masterpiece.
Rated R. 120 mins.