A VERY HAROLD & KUMAR CHRISTMAS
Groupthink doesn't live here, critical thought does.
This ad-free website is dedicated to Agnès Varda and to Luis Buñuel.
Get cool rewards when you click on the button to pledge your support through Patreon. Thanks a lot pal! Your kind generosity keeps the reviews coming!
There are two major obstacles to overcome for the makers of "A Very Harold & Kumar Christmas."
The first thing is that this a Christmas movie — never a good thing.
The second thing is that our "stoner duo" barely gets lit up during the whole movie.
What?!
You can't very well be called the "stoner duo" and not take full advantage of the gigantic 3D splif that shows up on your doorstep during the moment when Harold and Kumar are alone together for the first time in a long time.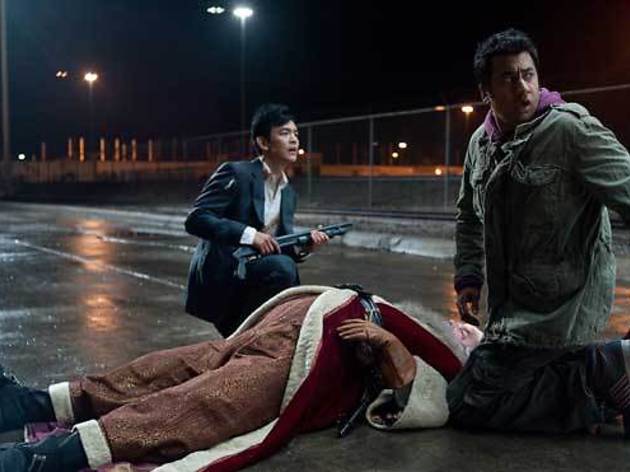 But that's just what happens before a burned-down Christmas tree sends our reunited multi-culti friends on an adventure to obtain a replacement tree.
Now for the good news; "NPH," as he's known to his fans, saves the day — or at least snaps the movie to its drugs-sex-and-munchies good time. Talk about meta: Neil Patrick Harris works it as a straighter-than-straight Broadway star who hides behind his phony gayness to get into the pants of unsuspecting girls, fag hags, and fellow performers. Can you say, omnisexual?
Although it doesn't get as ribald as it should, "A Very Harold & Kumar Christmas" takes its penis-and-exposed-breasts scenes with a proper sense of irreverence. Newbie director/co-writer Todd Strauss-Schulson hasn't yet mastered the necessary skill to go over-the-top-backwards yet still manages to soldier through the comedy with some not-so-subtle surprises. Where's the slapstick?
Harold and Kumar have come a long way since they hunted down White Castle, and were detained at Guantánamo. Now that they've got Christmas behind them, it's time for cinema's favorite stoners to follow their logical trajectory and become President and Vice President of the United States of America. There's still time for them to run in the 2012 election.
Rated R. 89 mins.