ALBERT NOBBS
Passing Strange
Glenn Close Outdoes Streep
By Cole Smithey
Disclosure: I've never been a fan of Glenn Close. I always considered her a poor man's Meryl Streep. I can't think of a single role she's played that wouldn't have been improved upon if Streep had played it instead. However, Glenn Close's muted, carefully nuanced portrayal of Albert Nobbs is a career-defining performance that commands the deepest regard and, for what it's worth, blew me away.
Director Rodrigo García's exquisitely crafted period drama set in 19th century Ireland is based on a short story by Irish author George Moore. "Albert Nobbs" is a socially oppressed woman so desperate to survive economically that she dresses and behaves as a man. The asexual Albert has worked as a quiet live-in waiter/butler at the elite Morrison's Hotel in Dublin for more than 20 years. Her androgynous looks make the subterfuge possible. Lonely Albert — the only name she goes by — pinches every penny of her wages and tips, keeping careful record of the savings she stashes under a loose floorboard inside her tiny room. Albert's tightly held secret is threatened when she is forced to allow Hubert Page, a contract painter working in the hotel, to share her bed for a night. 
Spoiler alert: Hubert (Janet McTeer) is as adroit at hiding her sexuality as Albert. So much so that she has succeeded in establishing a relatively comfortable lesbian lifestyle with her partner, sufficiently obfuscated from the public eye. Albert begins to imagine how she might create her own unique arrangement with fellow hotel service worker Helen Dawes (Mia Wasikowska). She imagines opening a tobacco shop where the couple can live and work together. The much younger Helen—she's barely a day over 18—is already wrapped up in a fresh romance with Joe (Aaron Johnson), her unreliable boyfriend. Joe has recently been hired to work in the hotel as a handyman. Albert unwisely ignores the obvious obstacle Joe represents to woo Helen with practical-minded dates over which she hopes to advance her idea of entering into an arrangement that necessarily involves marriage.
As such, the story hits its stride of aspirational vitality in Albert's active daydream of putting her life's savings to use in a place where she can enjoy economic prosperity and companionship for the first time in her life. Rodrigo García's flawless depiction of Albert's suddenly awakened inner emotional life is the story's treasured seed of hope and happiness that must be transformed under the constraints of a brittle reality.
Glenn Close famously played the same role in "The Singular Life of Albert Nobbs," a 1982 Off Broadway production directed by Simone Bemmussa; she won an Obie. This time she is surrounded by terrific supporting efforts by Janet McTeer, Mia Wasikowska, and Brendan Gleeson.
"Albert Nobbs" falls into the zeitgeist of female-themed survival films such as the Angelina Jolie-directed Bosnian war examination "In the Land of Blood and Honey". Equal parts character study and social commentary, "Albert Nobbs" is a melancholy film of enormous power that could easily slip through the cracks without the aid of the Oscar nominations it deserves.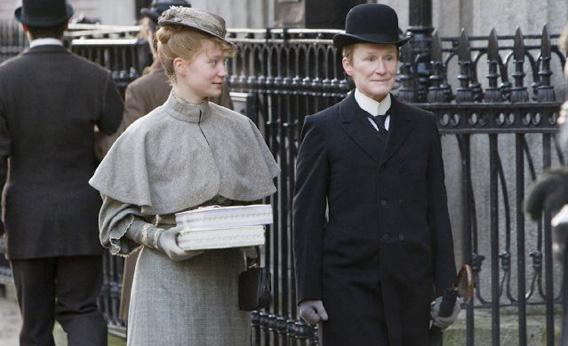 The story is an original one that doesn't pander to its audience, as Hollywood films are famous for doing. "Albert Nobbs" is an uncompromising and rigorous movie that dismisses conventional compositional devices to the delight of audiences seeking intellectual and emotional depth in their cinematic adventures. Don't miss "Albert Nobbs."
Rated R. 114 mins.
Groupthink doesn't live here, critical thought does.
This website is dedicated to Agnès Varda and to Luis Buñuel.
Get cool rewards when you click on the button to pledge your support through Patreon.