CANNIBAL HOLOCAUST — CLASSIC FILM PICK
In 1980, long before horror films like "The Blair Witch Project" or "Paranormal Activity" took up the "found-footage" trope, screenwriter Gianfranco Clerici and director Ruggero Deodato wrote the book on the subject with an exploitation horror film with a subtle name: "Cannibal Holocaust."
Deodato proved himself a master of guerrilla marketing by having his actors sign contracts agreeing not to appear in any type of media, to support rumors that "Cannibal Holocaust" was a snuff film for which the performers had actually perished.
The filmmaker's ploy worked a little too well. Aside from grossing $2 million in the first 10 days of its release, the film was confiscated by Italian police in Milan. Deodato was arrested on obscenity charges, later amended to include an indictment for murder. Deodato avoided a life sentence after he proved the death sequences in the film were staged. Still, nothing could prevent censors in dozens of countries from banning the film outright. It took another three years before an edited version could be released in Italy. Years later the original uncut version was finally made available.
The genus for the narrative grew out of a conversation Deodato had with his son about news coverage of the Red Brigades in Italy at the height of the leftist group's kidnappings and bank robberies. Deodato believed that some of the stories had been staged by media outlets to fulfill their agenda of editorial history-shaping.
So it follows in the film that NYU professor Harold Monroe (Robert Kerman) is part of a rescue team that discovers reels of lost footage taken by a group of four New York journalists searching for cannibal tribes in the Amazon basin — also referred to in the film as the "Green Inferno." The ragtag group of hippie reporters consist of a director (Carl Gabriel Yorke), his girlfriend assistant (Francesca Ciardi), and two cameramen.
The rescue team's discovery of a bug-infested human corpse precedes the film's first onscreen killing of an animal — a coatimundi that serves as the team's first jungle meal. Over the course of the film Deodato revels in the brutal murders of seven animals, including a monkey, pig, and giant tortoise. The gruesome animal deaths inform the tortures and murders of people that occur so that the viewer is immersed in an atmosphere of gory jungle hell.
The story frequently returns to New York, where researchers carry on a cheesy objectifying discussion of the found footage and what it says about contrasting morals between civilized and uncivilized societies. Indeed, every terrible act of sexual and violent transgression committed by the Amazon cannibal natives is matched by the "professional" journalists who similarly stage the murderous acts they collect on film.
Apart from being a truly disturbing film, "Cannibal Holocaust" serves up a cold plate of scathing social commentary. That it does so with a self-reflexive end run that encompasses the whole narrative context is a stroke of genius. However insane that genius might be, it perfectly mirrors the horrors of the extermination of indigenous cultures.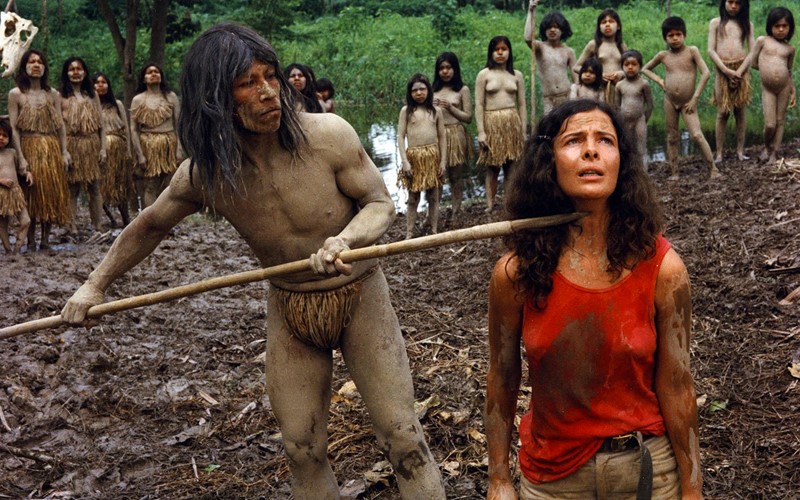 Groupthink doesn't live here, critical thought does.
This website is dedicated to Agnès Varda and to Luis Buñuel.
Get cool rewards when you click on the button to pledge your support through Patreon.