WE BOUGHT A ZOO
Groupthink doesn't live here, critical thought does.
Welcome!
This ad-free website is dedicated to Agnès Varda and to Luis Buñuel.
Get cool rewards when you click on the button to pledge your support through Patreon.
Thanks a lot acorns!
Your kind generosity keeps the reviews coming!
Crowd-Pleaser
Cameron Crowe Does the Thing He Does
By Cole Smithey
Cameron Crowe casts a heart-warming cinematic spell that will milk many a tear from its widespread target audience. However calculated to meet the demands of family-friendly holiday movie fare, "We Bought a Zoo" does everything it sets out to achieve.
Some supporting characters, such as Patrick Fugit's zoo-keeper Robin Jones, get short shrift but it's all in the interest of keeping the potentially overpopulated story moving toward its intended goal of family unity.
Matt Damon is likable as ever as Benjamin Mee, a father of two attempting to reinvent his family after the recent loss of his wife. Benjamin's 13-year-old son Dylan (Colin Ford) is acting out at school. Dylan draws disturbingly violent pictures of things like decapitations and weird monsters. He's been caught stealing.
Seven-year-old Rosie (played wonderfully by Maggie Elizabeth Jones) is emotionally better equipped to deal with the shifting reality around her. It goes without saying that, against conventional wisdom, Benjamin quits his job and purchases a rundown zoo as a way to reestablish a nurturing home environment for himself and his kids.
The run-down rural facility's 40-odd endangered animals face the threat of being put to sleep unless Benjamin can make the necessary renovations for the zoo to pass inspection. John Michael Higgins adds comic appeal as Walter Ferris, a quirky zoo inspector widely disliked by the staff Benjamin inherits when he purchases the property.
Scarlett Johansson coasts through her role a zookeeper Kelly Foster, a dedicated young woman whose undeniable beauty causes simmering romantic tension with Benjamin. Indeed, romantic suspense is one of the film's trump cards. The anti-social Dylan tries to avoid the noticeable chemistry he shares with the zoo's youngest assistant Lilly (Elle Fanning). His failing attempts at skirting love's arrows give the movie a youthful sense of nostalgia that runs parallel to its idyllic sense of wonder regarding wild animals.
You never believe for a moment that Thomas Haden Church's playful character Duncan could be Matt Damon's sibling. Yet you wouldn't want it any other way. Haden Church adds just the right amount of brotherly support to give the story the essential familial lift it needs. It doesn't hurt that he delivers every line with an infectious dose of good-humored intentionality. You can't help but love Damon and Haden Church as brothers even if they don't share a single physical trait in common.
As with all of Cameron Crowe's films music plays an important part. Although the film slips into music video sequences from time to time it's difficult to challenge the director's pitch-perfect ability for matching perfectly contrasting yet complimenting pieces of rock music to the tone of the action at hand. Aside from songs from Tom Petty and Bob Dylan, Crowe tapped Icelandic singer/songwriter Jónsi from the rock band Sigur Rós to compose original music for the score. The formula works like a charm.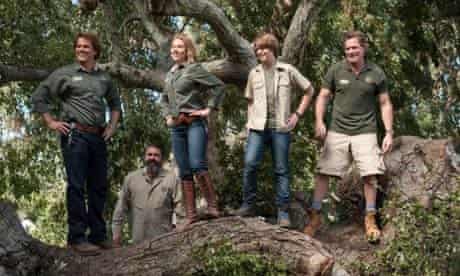 Without having even seen "We Bought a Zoo," New Yorker magazine film critic David Denby famously slagged Cameron Crowe's movie in emails to producer Scott Rudin regarding Denby's faceplant decision to break a film review embargo on "The Girl with the Dragon Tattoo." Such kneejerk critical reaction to solid holiday entertainment as "We Bought a Zoo" speaks volumes about corporate media's attitudes that Hollywood is left to questionably interpret. As if there wasn't already a dearth of G and PG-rated films, Denby's malicious remarks reflect a damaging ideology of cultural condescension.
"We Bought a Zoo" never pays quite enough attention to the incarcerated wild animals we hear so much about throughout the story. The predictable climax comes across like so much melted peanut butter. Still, the movie wins in its ability create a glow of giddy movie pleasure that audiences crave. If that means you'll tear up more over this movie than "War Horse," well, don't say I didn't warn you.