EL TOPO — CLASSIC FILM PICK
Alejandro Jodorowsky's 1970 avant-garde showpiece of transgressive cinema revolutionized the commercial landscape of what was possible for an "art film" to achieve. Jodorowsky's off-kilter use of religious symbols and Western genre motifs, against a visually open palate of a Mexican desert, fit naturally into the era's lexicon of drug use. "El Topo" became the catalyst for the Midnight Movie phenomenon where stoned audiences returned week after week to absorb unusual films — the bloodier or weirder the better.
In spite of its limited production values, "El Topo" is an obviously ambitious effort. Jodorowsky employs asymmetrical storytelling devices in conjunction with exploitation elements of violence and sex to weave an inventive film that challenges its audience on intellectual and visceral levels. The filmmaker's abundant casting of dwarfs, amputees, and nonprofessional actors adds to an atmosphere of seething underground rebellion.
"El Topo" announces its bizarre socio-political allegory in an opening pre-roll that describes a protagonist mole digging tunnels toward the sky only to discover that when he finally breaks through, the sun blinds him. That brief synopsis encapsulates the A-B story that follows.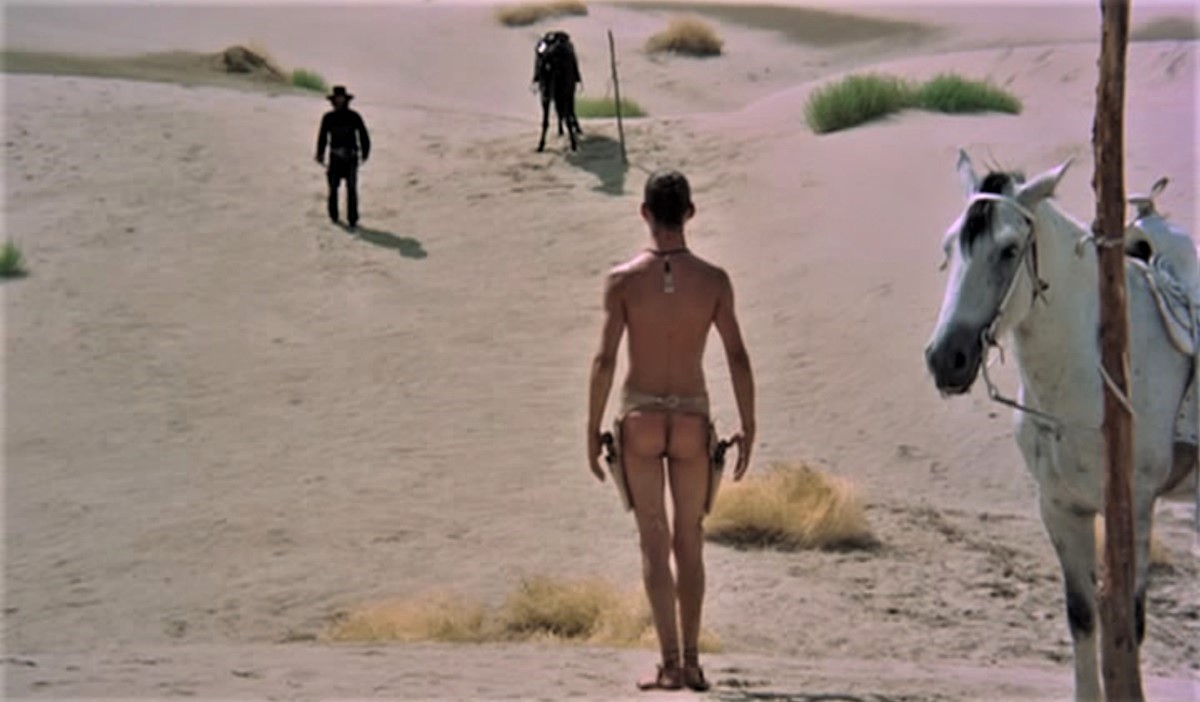 El Topo (played by Jodorowsky) is the film's allegorical mole. He is a black-clad avenging cowboy who differs significantly from the Don Quixote archetype upon which he is loosely based. El Topo's naked six-year-old son rides on horseback with his father. They arrive at a recently massacred town covered in paint-textured blood. Corpses cover the ground. A dying man crawls, begging to be put out of his misery. El Topo hands his son his pistol to do the honors. The vulnerably naked child complies.
Jodorowsky's version of a brave new world is a retro post-apocalyptic country where life is cheap. El Topo hunts down the fascist Colonel responsible for the massacre and castrates him, prompting the autocrat's consequent suicide. Our hero abandons his son in the care of monks in the interest of taking off with a passionate woman of the desert. He names her Mara. Their relationship turns on her demands that El Topo prove himself as the best gunfighter around.
Mara encourages her lover to engage in duels with religious zealots from four divergent disciplines, existing in nomadic isolation. The ethically challenged El Topo cheats to dispatch his holy rivals until he sees through his contravention. El Topo's dubious victories momentarily satisfy Mara before she slips into a lesbian affair with a whip-wielding dominatrix. The outlaw destroys his pistol before transitioning into a Christ-like phase of existence that makes up film's ladder half where our mole of salvation attempts to free a community of deformed people by digging through their cave toward the relative freedom of a Western-styled town run by violent cultists.
For all of its easily mocked elements, "El Topo" is a work of mad cinematic genius that stays with you.
Groupthink doesn't live here, critical thought does.
This website is dedicated to Agnès Varda and to Luis Buñuel.
Get cool rewards when you click on the button to pledge your support through Patreon.