TINKER TAILOR SOLDIER SPY
Groupthink doesn't live here, critical thought does.
This ad-free website is dedicated to Agnès Varda and to Luis Buñuel.
Get cool rewards when you click on the button to pledge your support through Patreon. Thanks a lot pal! Your kind generosity keeps the reviews coming!
Cold War Spies
John le Carré's Novel Goes Full Tilt
By Cole Smithey
International espionage during the Cold War period of the early '70s, as practiced by British MI6 double agents, is one very icy dish. Director Tomas Alfredson ("Let The Right One In") peels back myriad shades of atmospheric gray that contribute thoroughly to his spook characters' consciously modulated mannerisms. The result is a spot-on adaptation of John le Carré's famous 1974 novel.
Husband-and-wife screenwriters Peter Straughan and the late Bridget O'Connor execute the finest novel-to-film adaptation you could imagine. Crisscross strains of Bertolucci's "The Conformist" flow through cinematographer Hoyte Van Hoytema's stark compositional choices. Composer Alberto Iglesias contributes to the film's tense mood with musical motifs that push and pull at the seething drama onscreen.
John Hurt delivers a prehensile performance as Control, the head of Britain's CIA equivalent, before a failed mission costs him his job. Control orders MI6 field spy Jim Prideaux (Mark Strong) on a Black Ops mission to Budapest to arrange for the defection of a Hungarian general with knowledge about the identity of an MI6 mole who has been passing off secrets to the Russians.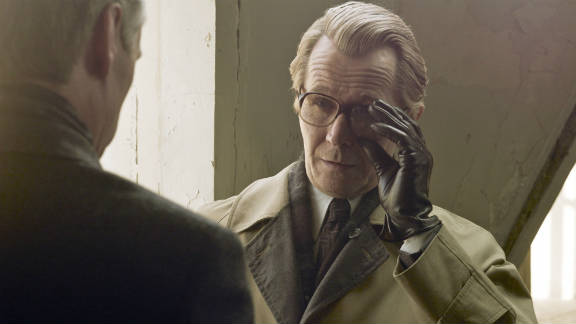 Skullduggery hangs thick in the Eastern European air. Their quiet meeting at an outdoor café is interrupted by a sickening bit of suspenseful violence that occurs with sloppy fury. Far removed from the glossy action of a James Bond movie, cold blooded death comes as an occupational hazard. No agent is immune regardless of his depth of experience. A mole in the upper echelon of MI6 is surely to blame. Uncovering his identity makes up the narrative meat of the film.
As the mystery unfolds, sharply constructed flashback sequences bring the secret inner lives of each involved spy into focus.
The film's nursery rhyme-informed title refers to the codenames of the suspected British spies who call their London headquarters by its alternate title, the Circus. Irony drips from the word since nothing about the industrial building with its harsh florescent lights or soundproof conference room displays any sense of humor.
Gary Oldman's implacable "Beggarman" George Smiley is Control's former right-hand man called out of retirement to uncover the traitor among the group. The mole has been giving away carefully-guarded secrets for so long that it calls into question the value the entire MI6 agency.
Toby Jones plays the "Tinker" Percy Alleline to Colin Firth's well spoken "Tailor" Bill Haydon. Ciarán Hinds brings his stoic nature to bear as Roy Bland, the "Soldier" of the group. Tom Hardy turns in an emotionally moving portrayal as Ricki Tarr, a love-blinded spy gone rogue. You couldn't hope for a better ensemble of actors. There's no such thing as a throwaway scene in the entire film. Here's a film to sit back and savor every moment.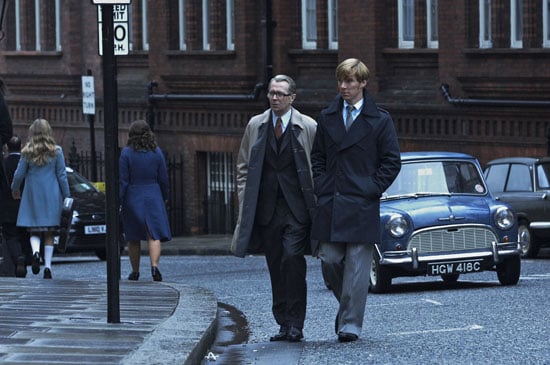 "Tinker Tailor Soldier Spy" is more than a character study. It is an examination of a highly skilled occupation that demands such complete and utter commitment that all emotional response must be submerged to a point of permanent poker-faced resolve. No one can be trusted and yet loyalty to the group is mandatory. A company Christmas party where the agents pretend to let their hair down momentarily arrives as a key repeated sequence for what it says about the way British spies of the period interacted. Every jovial smile conceals suspicion and secrets.
Tomas Alfredson's flawless staging provides a fly-on-the-wall view that allows the audience to peek behind the characters' well-defended shroud of secrecy to discover yet another one that hides beneath. The story is about how loyalty and integrity are enforced in a spy agency where such values add up to much more than a simple matter of life and death. They represent the safety and viability of an entire system of government.
Rated R. 128 mins.