HAYWIRE
Welcome!
Groupthink doesn't live here, critical thought does.
This ad-free website is dedicated to Agnès Varda and to Luis Buñuel.
Get cool rewards when you click on the button to pledge your support through Patreon.
Thanks a lot acorns!
Your kind generosity keeps the reviews coming!
Slap Happy
Soderbergh Knocks Off Tarantino
By Cole Smithey
Proof positive that Steven Soderbergh can make a shamelessly fluffy action thriller, "Haywire's" trump card is the estimable abilities of mixed-martial-arts-fighter-turned-actress Gina Carano. Though the movie is nothing more than a flashy debut showcase for the charismatic Carano to show she can act and kick butt, that's sufficient for much popcorn to be consumed.
Carano plays professional assassin Mallory Kane, on the run from a group of power brokers who set her up for a fall that doesn't pan out. Told mainly in globetrotting flashbacks, the narrative traces Mallory's problematic assignment to rescue a Chinese journalist being held in Barcelona.
Fast-moving chase sequences mesh with flying bullets and plenty of hand-to-hand fighting between Mallory and various attackers who tend to underestimate Mallory's killer instinct. Soderbergh's camera drinks up stylish scenery in glossy action set pieces. The visual flare makes you want the movie to kick into a missing gear of Tarantino-inflected dialogue; sadly screenwriter Lem Dobbs simply isn't capable of producing such delights.
Still, there's plenty of tongue-in-cheek humor inherent in the bone-breaking fights that transpire. A roll call of witty supporting turns from the likes of Channing Tatum, Michael Douglas, Antonio Banderas, Ewan McGregor, and Michael Fassbender spice up the flavor of the action.
"Haywire" is a chamber piece action movie in which the athletic violence on display comes with kisses. If you don't expect too much, you'll be more than satisfied.
There's a tendency to overestimate Steven Soderbergh's abilities as a director. Since making an enormous independent splash in 1989 with "Sex, Lies, and Videotape" Soderbergh's films have swung wildly between peaking hills and sea-level valleys. Stable Hollywood fare (see "Erin Brockovich" and the "Ocean's" franchise), offbeat personal projects (witness the disaster of "Full Frontal" and the underachieving "Girlfriend Experience"), topical epics (see "Traffic" and "Che"), a daring remake ("Solaris"), and retro Hollywood (his best film "The Good German") map out a consistently inconsistent career.
Steven Soderbergh has a tendency toward making films that have a compartmentalized and brittle feeling about them. "Contagion" and "The Informant!" are prime examples. While the Atlanta-born filmmaker has threatened to retire from directing in recent years, he maintains a prolific output that puts lesser filmmakers like Alexander Payne to shame. His upcoming films include "Behind the Candelabra," a Liberace biopic and "Magic Mike," a comedy about an upstart male stripper played by Channing Tatum.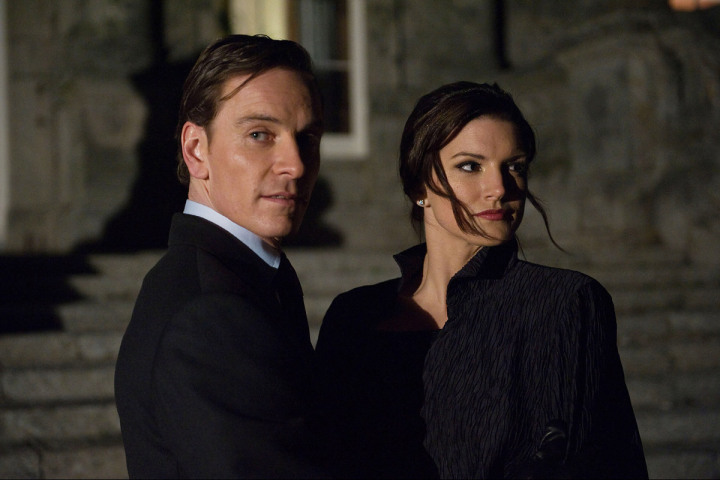 As the latest addition to Soderbergh's challenging oeuvre "Haywire" is a minor addition that does little to dispel the sense that the filmmaker suffers from a crisis of commitment. You don't get the feeling that he made the movie out of any deep-seeded artistic urgency. Rather, "Haywire" seems a flashy little one-off on the way to something else.
If the movie serves its most apparent purpose, to turn the muscular Gina Carano into Hollywood's latest female action star, then so much the better for movie audiences to relish in her innate ability to charm and surprise. But that still leaves an open-ended question about whether Steven Soderbergh has what it takes to create the filmic masterpiece that his work as a filmmaker seems to point toward. It's anybody's guess whether or not he'll pull it off.