BEAUTY AND THE BEAST 3D
Groupthink doesn't live here, critical thought does.
This ad-free website is dedicated to Agnès Varda and to Luis Buñuel.
Get cool rewards when you click on the button to pledge your support through Patreon.
Thanks a lot acorns!
Your kind generosity keeps the reviews coming!
Disney's gorgeous 1991 animated version of the classic fairy tale "Beauty and the Beast" gets the same 3D treatment that was recently given to "The Lion King." The effect is extraneous to an already impressive use of animation, but that's hardly the point of Disney's excuse to rerelease the film.
Belle (voiced by Paige O'Hara) offers to take the place of her imprisoned father in a giant mysterious castle occupied by a princely Beast (voiced by Robby Benson) living under a terrible curse that only Belle's love can reverse. His unusual staff of servants includes a talking candleholder and a mother-and-son teapot set.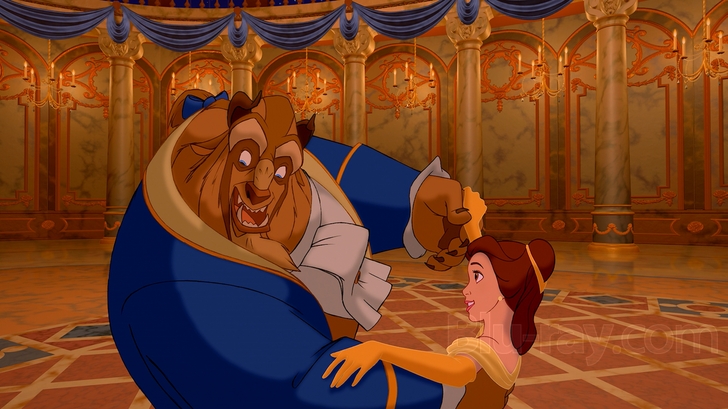 "The most beautiful love story ever told" is about how true beauty comes from the inside. The Beast might be a big and hairy ogre with a temper but he is a gentleman at heart. Wooing Belle provides some important lessons. The musical story is told in memorable songs that range from orchestral to pop rock music.
Rated G. 84 mins.