SPLINTERS
Groupthink doesn't live here, critical thought does.
This ad-free website is dedicated to Agnès Varda and to Luis Buñuel.
Get cool rewards when you click on the button to pledge your support through Patreon. Thanks a lot pal! Your kind generosity keeps the reviews coming!
Adam Pesce's absorbing cross-cultural documentary about a small indigenous community in the village of Vanimo, Papua New Guinea provides an intimate view into an island culture revolutionized by one thing, a surfboard. During the '80s, a visiting Australian pilot left behind the board he used to surf PNG's perfect waves. In the years that followed local Vanimo boys fell in love with the sport. They made their own surfboards — called "splinters" — crafted from lightweight wood.
In time the young men procured surfboards from visiting surfers, and imitated moves they studied in surfing magazines. They started up a surf club that in turn triggered two rival clubs. For the first time in PNG's history, Vanimo will play host to the inaugural Papua New Guinea National Surfing Titles where native surfers can compete against pros. The local winner is to be awarded the opportunity to train with surfing athletes in Australia.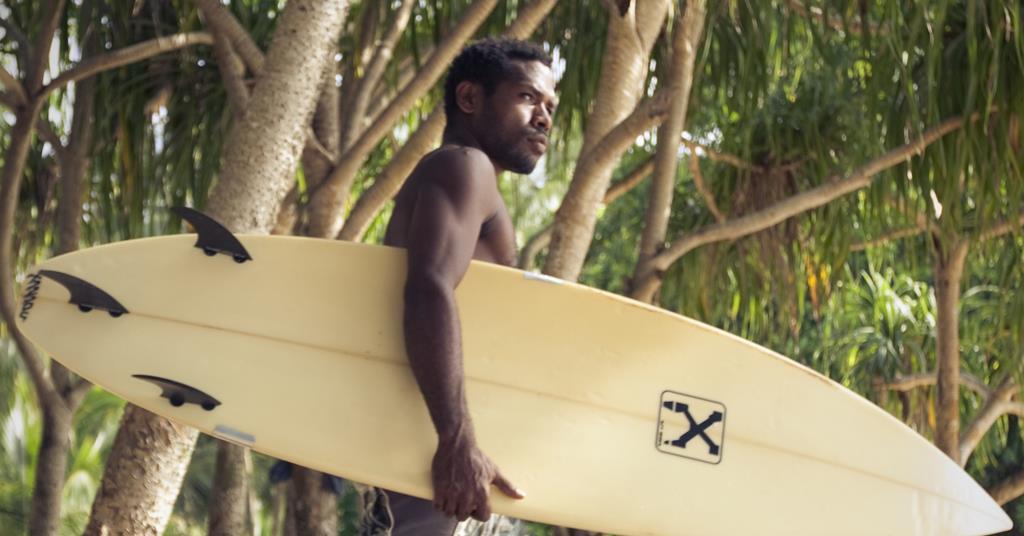 The film gravitates around Angelus, the son of the first native to surf Vanimo's waves. Angelus is a gregarious surfer in his late 20s. He is recognized as "the King" of the resident wave-riders. Angelus's moves on the waves are world-class.
Angelus's shy disciple Ezekiel also has what it takes to compete on a professional level if his dubious nightlife activities don't consume him. Angelus too has personal issues that threaten to derail his chances to compete. He owes alimony to his ex-wife whose brother is the leader of a rival surf club. If arrested for non-payment Angelus will be sent to prison.
Such is the drama in a community where women are second-class citizens to husbands who can beat them after they "buy" them. Much to the dismay of the male surfers, siblings Lesley and Susan have broken with tradition to pursue surfing as a way of life. In this northern corner of Papua New Guinea surfing has created a crucible of ideological conflict, and an aspirational way out of the region's old world trap.
Not Rated. 95 mins.