MICHAEL
Groupthink doesn't live here, critical thought does.
This ad-free website is dedicated to Agnès Varda and to Luis Buñuel.
Get cool rewards when you click on the button to pledge your support through Patreon.
Thanks a lot acorns!
Your kind generosity keeps the reviews coming!
Austrian filmmaker Markus Schleinzer's chilling debut bears the earmarks of the time spent with directors Michael Haneke and Ulrich Seidl, with whom he worked as a casting director.
Every bit as dry, cold, and calculated as your typical Michael Haneke film, "Michael" is darkly disturbing examination of a pedophile and his 10-year-old captive. Schleinzer gets co-directing assistance from casting partner Katrin Resetartis. Michael Fuith plays the film's thirtysomething human monster who happens to go by the same first name. This is one actor who clearly has no Hollywood aspirations.
Inspired by a 1998 abduction case in Vienna, the story covers a five-month period, during which Michael contends with his basement captive Wolfgang (David Rauchenberger) as an amalgam of sex-slave, son figure, and pet. Michael controls the electricity to Wolfgang's windowless room, leaving the child in complete darkness for much of the time. Although Michael brings the boy upstairs to dine in a "normal" home setting, he digs a grave in a wooded area when the boy comes down with a bad cold. He makes plans for bringing in a second boy.
A fly-on-the-wall study of the behavior of a pedophile, "Michael" is a horror movie made up small moments. Michael keeps a coded record of his sexual encounters with the boy. At work he keeps to himself, but effectively angles for a promotion. He goes on a ski trip with friends, and successfully flirts with a waitress in the lodge restaurant. The child victim acts out his anger. Although there is only one very carefully staged bit of nudity in the film, it is a shocker.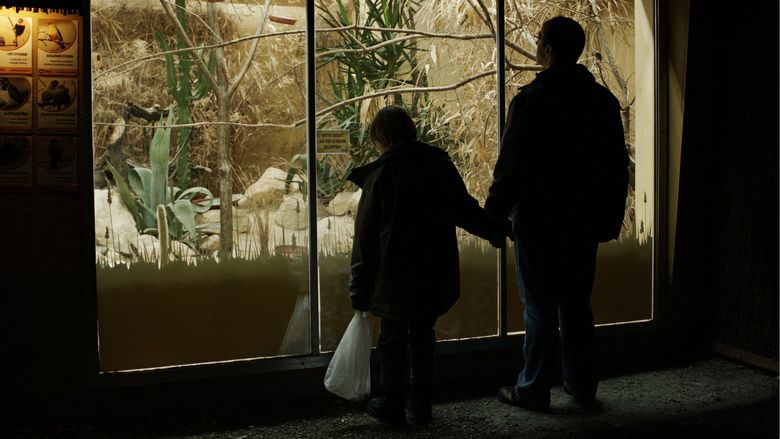 American audiences unfamiliar with the stalking brutality of modern Austrian cinema take note; "Michael" is one very upsetting cinematic cup of mulch and tree-bark tea. This is not a date movie, or a film to take the family to see. Handle with care.
Not Rated. 96 mins.