UNDEFEATED
Memphis Microcosm
High School Football Doc Examines America's Race Crisis
By Cole Smithey
The underbelly of America's racial and economic divide is eloquently explored in this unpretentious documentary about a generous Memphis high school football coach and the impoverished young men he attempts to elevate to a better life. Coach Bill Courtney is one of a kind. A successful white businessman with picture-perfect family living in a mansion on the good side of town, Bill Courtney has a gift for coaching football. He also runs a lumber company, although you'd never guess it from the amount of time and energy he dedicates to coaching football. You'd be hard-pressed to imagine a more perfect model of a coach.
With his slight Southern drawl he tells his players, "You think football builds character. It does not; football reveals character."
Indeed, high school football allows the empathetic and fiercely driven Bill Courtney to express his well-placed individuality in the service of helping his players define their potential on and off the field.  
Coach Courtney knows how to motivate his Manassas team of African-American players whose at-risk environment threatens to drag any one of them down in a vicious undertow on any given day. A school bell rings at 3:30 pm. The doughy-faced Coach Courtney addresses his team of brooding players with a list of their teammates who have been shot, arrested, or suspended over the past two weeks. Undaunted by the incremental incidents that undermine his team, Courtney knows how to turn adversity into an advantage without batting an eye.
Famous for never having won a playoff game in the school's 110-year history, Manassas High School is the last football team anyone in a 150-mile radius expects to hear anything positive about — ever. Nonetheless, six years of coaching the same group of boys has put Coach Courtney's squad on the precipice of being able to break that losing streak if only they can focus on the fleeting opportunity before them.
It's tempting to wax poetic about the energetic 2009 season we witness the Manassas Tigers play through, but the meat of the story comes down to three players. Montrail "Money" Brown is a physically undersized offensive lineman with heart and serious goals for college. An injury threatens to keep Money off the field for the entire season. Money's vacillating confidence level jeopardizes the necessary physical therapy sessions that could put him back in the game.
Chavis Daniels is an ex-con from a youth penitentiary whose skill on the football field is overshadowed by his uncontrollable temper off of it. O.C. Brown is a gifted right tackle with the demeanor of a teddy bear and a remedial level of academic comprehension. How each young man matures under Bill Courtney's judicious supervision is as inspirational as it is edifying.
Co-directors Daniel Lindsay and T.J. Martin employ a judicious vérité style that brings a social context to their film. An unobtrusive but effective musical score resonates as an aural background. Intimate interview segments with Bill Courtney allows their de facto protagonist to express candid exposition about crucial elements such as the way his team has historically been mistreated as a punching bag by rival teams. Humorous exchanges occur during car rides. An on-field camera pan blurs left to catch the coach taking a call from a wealthy local supporter willing to pay for one player's college education. Tight close-ups heighten the drama of the reactions exchanged in one of the film's most emotionally charged scenes. Tears flow. This is powerful stuff.
The filmmakers' careful editing of exciting football game footage allows for a dynamic contrast between the energizing, almost magical, effect of the games, and the depressing atmosphere of violence, poverty, and loss that the young players contend with in their daily lives.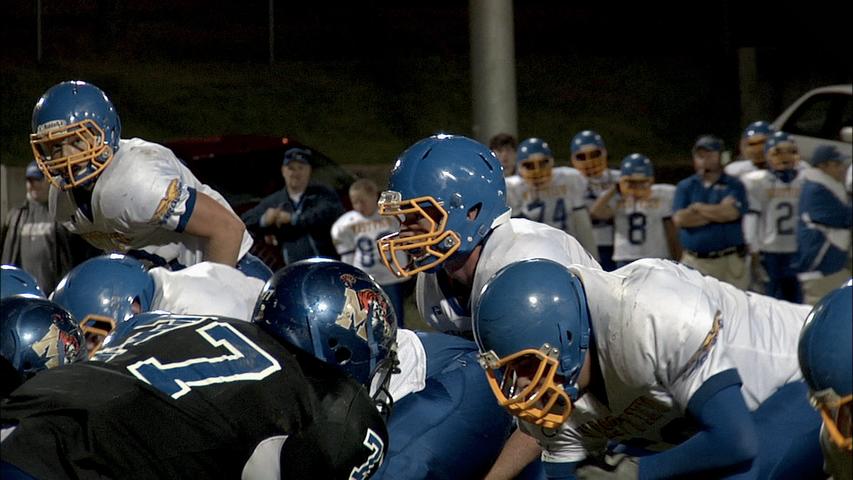 An aspect of intrinsic dramatic depth comes from Bill Courtney's own family. He and his wife have two girls and two boys — aged 11 through 14. Concerned that his commitments to the Manassas Tigers are preventing him from giving proper attention to his own children, Courtney struggles with a decision to stop coaching. His own lack of a father growing up has made him keenly aware of his responsibilities to his children. As an audience member, you really feel like you get to know exactly who this man is. The film's Academy Award nomination has brought it much deserved attention. "Undefeated" is a brilliant documentary that every teacher in America should see.
Rated PG-13. 110 mins.
Groupthink doesn't live here, critical thought does.
This website is dedicated to Agnès Varda and to Luis Buñuel.
Get cool rewards when you click on the button to pledge your support through Patreon.