GERHARD RICHTER PAINTING
Groupthink doesn't live here, critical thought does.
This ad-free website is dedicated to Agnès Varda and to Luis Buñuel.
Get cool rewards when you click on the button to pledge your support through Patreon. Thanks a lot pal! Your kind generosity keeps the reviews coming!
Following German abstract painter Gerhard Richter through his alternately meditative and physical process of artistic creation is like watching a magician showing you his tricks. In this case, knowing how the trick is done doesn't spoil the mesmerizing effect of witnessing Richter's artistic impulses at work. Documentarian Corinna Belz maintains a comfortable distance from her subject, whom she documents in the lonely and quiet confines of his brightly lit studio.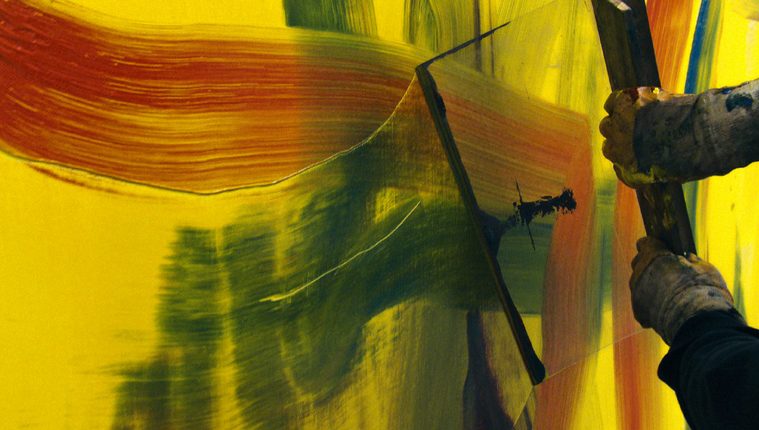 The film's minimalist score never intrudes. Belz spends just enough time contextualizing Gerard Richter's personal history and storied career with archival photos and interview footage to make her audience comfortable. Mainly the filmmaker exerts an effortless patience for the gifted artist to express himself as he chooses — which is mainly with primary colors layered across gigantic framed canvases. Preparations for upcoming museum shows involve 1-to-50 scale models of each room and wall.
Richter's two assistants (Norbert Arns and Hubert Becker) painstakingly build the miniature sets to enable a God's-eye viewpoint of each instillation. Footage of exhibitions in London, Munich, and Cologne give a glimpse into the glamorous side of an art world that Gerard Richter holds on a string.
"Gerard Richter Painting" provides an absorbing perspective on the painter's unique methods and techniques of creating moving works of modern art. You can practically smell the paint.
Not Rated. 97 mins.