COMIC-CON EPISODE IV: A FAN'S HOPE
Groupthink doesn't live here, critical thought does.
This ad-free website is dedicated to Agnès Varda and to Luis Buñuel.
Get cool rewards when you click on the button to pledge your support through Patreon. Thanks a lot pal! Your kind generosity keeps the reviews coming!
Frontrunner for the most over-the-top film title of the century — what happened to episodes one through three? — Morgan Spurlock's documentary look at the annual geekfest known as Comic-Con serves multiple purposes.
Curious types get a taste of the bestiary of bullshittery that is Comic-Con without having to make a mid-summer pilgrimage to convention-overpriced San Diego. Annual participants can dislocate their shoulders patting themselves of the back identifying people and places they recognize.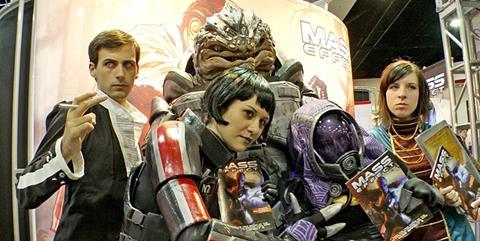 Wannabe graphic artists and cartoonists can get a crash course in how well they need to prepare if they want to impress publishers who take advantage of the gathering to review portfolios that almost always disappoint rather than impress. Sci-fi costume designers suss out some of their competition before casting away their dreams of making it in the movie biz.
Arriving well after the death of fanboy culture, Spurlock's documentary is a few years late. As one of the few returning comic book dealers points out, the festival isn't about comics anymore. As for the convention's 125,000 visitors — many of whom arrive dressed in full costume — Halloween will always cast an eclipsing shadow over their disguises, no matter how gruesome or inventive.
"Comic-Con Episode IV: A Fan's Hope" is entertaining in a queasy way. It's fine to look at all the pretty colors of Kool-Aid so long as you don't drink them.
Rated PG-13. 88 mins.