TAKE THIS WALTZ
   Groupthink doesn't live here, critical thought does.
This ad-free website is dedicated to Agnès Varda and to Luis Buñuel.
Get cool rewards when you click on the button to pledge your support through Patreon.
Thanks a lot acorns!
Your kind generosity keeps the reviews coming!
The reality of a committed marriage runs up against the promise of romantic exhilaration in Sarah Polley's refreshing sophomore effort as a writer/director. The consistently amazing Michelle Williams is Margot, a tightly wrapped ball of late twentysomething insecurity whose mutually rewarding marriage to food-book author Lou (Seth Rogen) is hitting a few snags — not the least of which is budding sexual chemistry with her neighbor Daniel (Luke Kirby).
Dreamy Luke pulls a rickshaw around town to support his habit as an artist. Without giving too much away, the film's romantic tension practically levitates during two real-time scenes that encompass all the pent-up lust and sensual euphoria a film can capture.
A verbal seduction in a café provides one of the hottest sex scenes ever filmed even if the characters never touch — much less remove any article of clothing. Nudity, however, is very much on the table in a shower scene that may do more to restore women's pubic hair than 50 years of feminist yammering.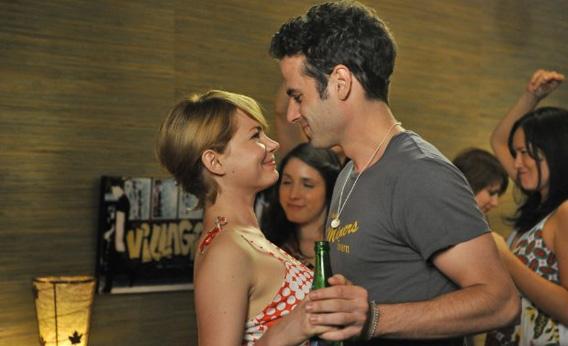 Polley's ear for naturalistic dialogue compliments her instincts as a filmmaker. As a director, the actress of such reputable dramas as "The Sweet Hereafter" understands how and when to let the language of cinema carry her audience away in a rapturous reverie of narrative bliss. Tiny character transformations occur during these moments of palpable ecstasy. Later on, such moments take on an entirely different meaning.
Sarah Silverman does a welcome dramatic turn as Lou's alcoholic sister Geraldine. Notable too is Seth Rogen's ease with romantically dramatic material. "Take This Waltz" has a Cassavetes-like glow to its rough-hewn exterior that makes its delayed plot developments all the more revealing. What a gem.
Rated R. 116 mins.