WE THE PARTY
Groupthink doesn't live here, critical thought does.
Welcome!
This ad-free website is dedicated to Agnès Varda and to Luis Buñuel.
Get cool rewards when you click on the button to pledge your support through Patreon.
Thanks a lot acorns!
Your kind generosity keeps the reviews coming!
There are a few moments during writer/director Mario Van Peebles's overly didactic high school drama when you can almost glimpse the good film buried beneath the artifice.
Set in South Los Angeles, the story is centered on the imaginary Baldwin Hills High School where everything is just oh-so perfect. Golden-boy senior Hendrix (Mandela Van Peebles) is kept under constant surveillance by his teacher father Dr. Sutton (Mario Van Peebles) and his school principal mom. Dad has no intention of letting his son make any wrong moves en route to college. Hendrix is obsessed with saving up to buy a car, and charming his way into the presence of the hot girl at school, Cheyenne (Simone Battle).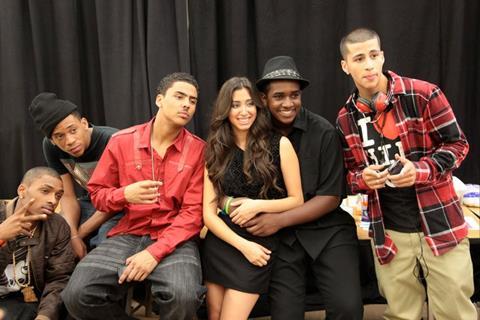 The filmmaker bangs a drum about the importance of education. "Minimum effort now means minimum wage later," Sutton tells his son. The oversimplified statement doesn't allow for all of the unemployed college grads that can't pay off their student loans.
"We the Party" is a disappointing effort. It's much too on-the-nose about teaching a young audience how to be better people. Such a controlling objective was doomed before it began.
Rated R. 104 mins.