I WISH
Master Japanese auteur Hirokazu Kore-eda returns to his trademark familial themes with a charming coming-of-age film that focuses on an emotional, rather than sexual, awakening. Twelve-year-old Koichi (Koki Maeda) and his younger brother Ryunosuke (Ohshiro Maeda) have lived apart since their parents' divorce. Koichi is with his mother Nozomi (Nene Ohtsuka) and grandparents (Isao Haahizume and Kirin Kiki) in Nozomi's southern hometown of Kagoshima.
Ryunosuke resides with the brothers' musician father Kenji (Joe Odagiri) in the northern city of Hakata. Koichi misses his little brother terribly. Telephone calls do little to assuage Koichi's feelings of displacement. News of a new bullet train that will connect the two distant towns stimulates the boys' imaginations.
The hopeful siblings imagine that witnessing the two trains passing one another at top speed on the line's maiden voyage will bring true the wish of whoever is there to witness the singular event. The brothers hatch a plan to ditch school with a few of their friends and meet up at the midway point on the train line to realize their fantasy. The improbable adventure calls for raising the necessary funds to purchase train tickets. Help from their young friends, family, and other adult figures play a crucial part in making the miracle happen.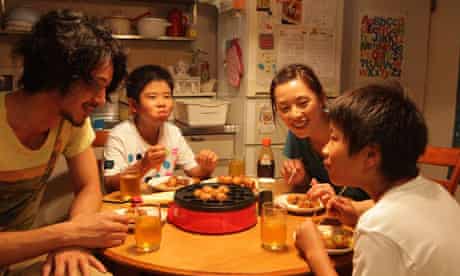 Magical realism permeates a story that honors a child's natural inclination to explore the world in a way adults have forgotten. That such a discovery would be impossible without some amount of tacit approval and even complicity from the adult world around them brings to light a communal sense of awareness and maturity in Japanese culture. Innocence has incalculable power in Hirokazu Kore-eda's thoughtful study of childhood perspective. Wide-eyed humor, eternal optimism, and fearless audacity come with this territory.
Rated PG. 128 mins.
Groupthink doesn't live here, critical thought does.
This website is dedicated to Agnès Varda and to Luis Buñuel.
Get cool rewards when you click on the button to pledge your support through Patreon.