MEN IN BLACK III
Some of the luster has worn off the once-promising "Men in Black" franchise, if for no reason other than its long absence since the second installment in 2002. Nonetheless, the return of Barry Sonnenfeld — the director on the previous two films — allows for the required visionary cohesion.
The tension-riddled relationship between Men-In-Black partners Agent J (Will Smith) and Agent K (Tommy Lee Jones) is just as contentious as ever. Boris the Animal (Jermaine Clement) escapes from a lunar prison built for the purpose of containing, well, him. Agent K should have killed Boris when he had the chance back in 1969 during a showdown at Cape Canaveral during the launch of Apollo 11. Now back on Earth, Boris poses no small threat to humanity in general, and to Agent K in particular.
To put Boris in his proper place — a shallow grave — Will Smith's Agent J must travel back in time to make sure Agent K kills Boris. The hokey plot device allows Josh Brolin to step up as a 40-year-younger version of Tommy Lee Jones. Sure enough, Brolin nails Jones's laconic Texas drawl to a tee.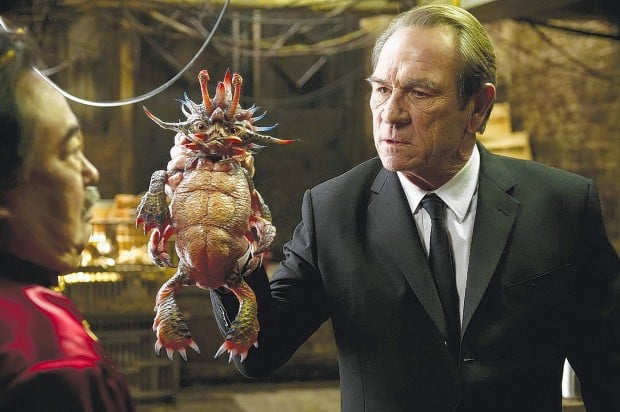 The film's unnecessary 3D effects are (spoiler alertà) less than impressive, but some choice comic episodes make the magic happen, as when Emma Thompson's Agent O delivers a speech in an alien tongue. An interlude at Andy Warhol's Factory gives Bill Hader some comic distance to run with as the wigged master of pop art.
"Men In Black III" might not have all the earmarks of a comic classic, yet Will Smith and Josh Brolin each give performances so polished you could shine your shoes from a block away in the reflection. The only thing missing from Tommy Lee Jones's screen-time is that there isn't enough of it. Go ahead and eat some popcorn. "Men In Black III" is a great excuse to do so.
Rated PG-13. 105 mins.
Groupthink doesn't live here, critical thought does.
This website is dedicated to Agnès Varda and to Luis Buñuel.
Get cool rewards when you click on the button to pledge your support through Patreon.