STRANGE DAYS - CLASSIC FILM PICK
Welcome!
Groupthink doesn't live here, critical thought does.
This ad-free website is dedicated to Agnès Varda and to Luis Buñuel.
Get cool rewards when you click on the button to pledge your support through Patreon.
Thanks a lot acorns!
Your kind generosity keeps the reviews coming!
One of the most ambitious examples of the dystopian genre, Kathryn Bigelow's "Strange Days" (1995) is a forward-looking predictor of America's economic collapse that combines sci-fi and political elements with a back-handed love story.
Set on the potentially apocalyptic eve of the millennium, and co-written by James Cameron and Jay Cocks, the film's hook is a futuristic black-market mini-disc technology called SQUID (Superconducting Quantum Interference Device) that records real-life experiences directly from the cerebral cortex of the wearer. The recorded experiences can be relived by anyone with a SQUID player and a bootleg copy of the original disc.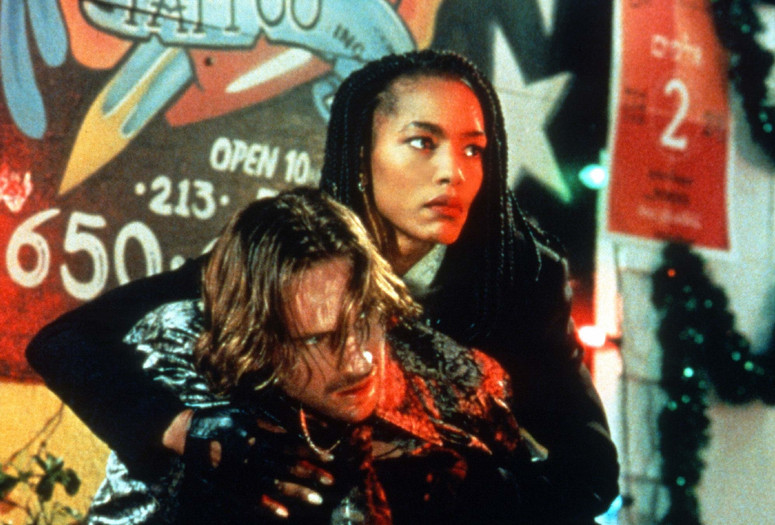 Adrenaline-pumping criminal activities and sensual encounters provide hot commodities that former LAPD officer Lenny Nero (Ralph Fiennes) deals to "wire-tripping" junkies. Lenny desperately wants to steal back his ex-girlfriend Faith (Juliette Lewis) from Philo (Michael Wincott), a sleazy record producer who promises to sign rock-singer Faith to a record deal. At home, Lenny keeps a stash of intimate SQUID recordings of his relationship with Faith that he returns to frequently to remind him of what he's lost. Lenny is a broken loser feeding on the negative energy that surrounds him in turbulent Los Angeles. No amount of humiliation or physical abuse is sufficient to make him forget his loss.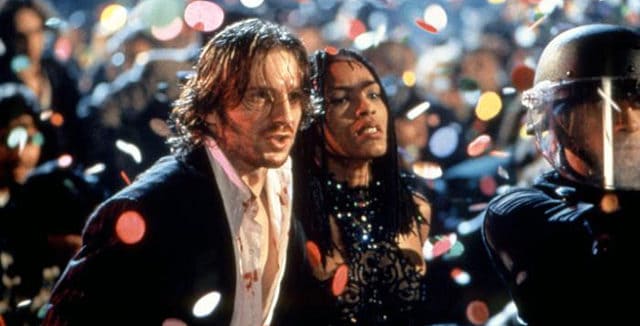 The film opens with one of nine virtuosic point-of-view sequences from inside the mind of a SQUID-wearer. A gun wielding masked robber accompanies two rowdy accomplices through a Chinese restaurant where cash is grabbed before cops arrive to chase the audience-as-subjective-criminal to a rooftop showdown that doesn't end well. Lenny snaps out of the deadly event he has been viewing. He's angry that his SQUID disc connection Tick (Richard Edson) is trying to sell him a "blackjack" snuff clip. Indeed, the four-minute sequence bristles with hair-raising energy.
"Strange Days" owes adebt to Michael Powell's "Peeping Tom," the film that ruined his storied career. A key subplot involves a SQUID wearer who rapes and kills a woman upon whom he places the recording device so that she sees what he sees as he kills her.
Kathryn Bigelow exhibits an acute eye for detail and an affinity for maintaining an energized tempo to the action. As a woman filmmaker, Bigelow also sinks her teeth into a seething sensuality that emanates from her powerful female characters. Juliette Lewis's nude scenes spring from the screen with slinky feline determination. Lenny's best friend Mace (Angela Bassett) carries equal protagonist duties. Bassett's theme-carrying character simmers with a fury that consistently erupts with ever increasing force toward the story's socially volatile climax.
If ever there was proof that a woman filmmaker can go toe-to-toe with the boys in the arena of complex action sequences, this is it. You've never seen chase scenes like these before.
Rated R. 125 mins.