MARINA ABRAMOVIĆ: THE ARTIST IS PRESENT
Welcome!
Groupthink doesn't live here, critical thought does.

This ad-free website is dedicated to Agnès Varda and to Luis Buñuel.
Get cool rewards when you click on the button to pledge your support through Patreon.
Thanks a lot acorns!
Your kind generosity keeps the reviews coming!
Co-directors Mathew Akers and Jeff Dupre squander a golden opportunity. What starts out as an informative documentary — about an intriguing Serbian performance artist who has pushed the boundaries of her art for more than four decades — digresses into a stale exercise in futility.
The daughter of anti-fascist partisans during World War II, Marina Abramović created a confrontational style of performance art that included works such as "Rhythm 10, 1973" in which she played the Russian game of stabbing a knife between her splayed fingers.
Although the performance is briefly shown using black-and-white archive footage, the filmmakers don't bother to go into sufficient detail about the artist's carefully outlined parameters for the project that brought her to a hyper state of consciousness, thereby informing her later works.
Abramović's most famous and controversial performance "Rhythm 0, 1974" — for which she placed 72 objects on a table and, for six hours, allowed spectators to choose one to use on her body as he or she saw fit — is barely touched upon. Instead, the movie focuses primarily on her "The Artist Is Present" exhibition at New York City's Museum of Modern Art, for which she sat from March 14 to May 30, 2010, allowing museum patrons to sit across from her and stare into her eyes for four-minute intervals.
While the film's title somewhat predicts the emphasis of the film, it's a shame the audience doesn't get a more involving examination of Marina Abramović's massive body of boldly thought-provoking work.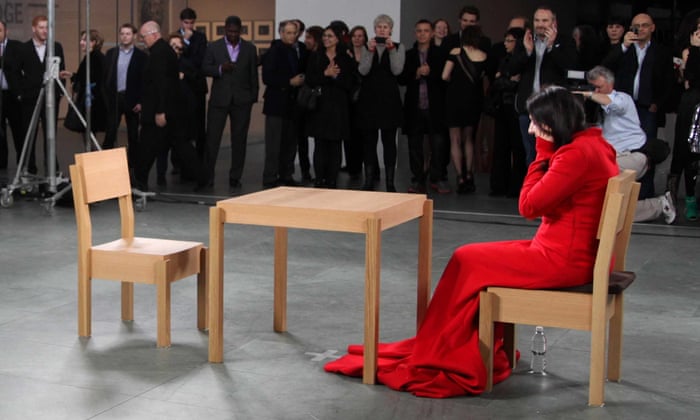 Not Rated. 85 mins.